Newlywed Business Teacher
Mr. Donecker, recently married, is a fifth year business teacher here at Coginchaug and loves teaching business because "business teaches skills that will apply to you later on in life, not just now."  Not only is he a teacher at Coginchaug, but he is also a DECA adviser, the boys tennis coach, the freshman boys basketball coach, and the assistant to the varsity boys basketball team.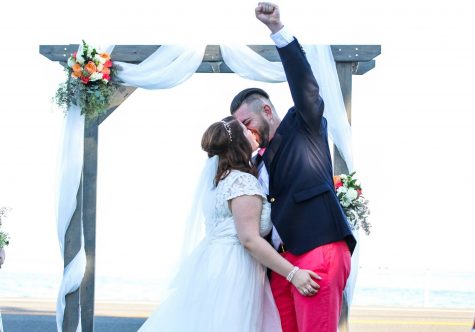 After a great year last year for both of his sports teams, Mr. Donecker said that it will be a "rebuilding year for tennis and a season full of hard work and improvement after coming off last year's season for basketball."  Although school just recently started, Mr. Donecker already has some big plans this year for DECA which includes going to Anaheim, California this year for the International Career Development Conference. "Many of us current members have big expectations for competing this year, and we all know that we will do well because Mr. Donecker and Ms. Wagemaker prepare us well for competition," said senior Hayley McIntyre.
Mr. Donecker recently got married this summer and described the day as "a beautiful and perfect day for a wedding."  When asked about some of the memorable moments from the wedding, he said, "After I proposed to her, the first thing we discussed was the color pants I should wear for the wedding."  That isn't exactly the first thing that you would expect a newly engaged couple to be discussing, but  the wedding was "perfect" and Mr. Donecker was happy with how everything turned out.