Supporting for a Cure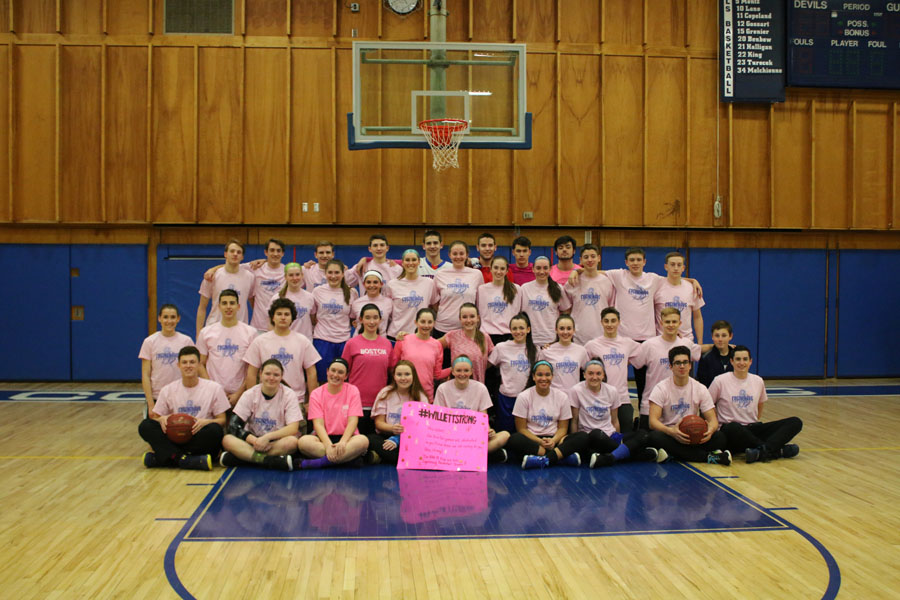 The Coginchaug girls and boys basketball teams are proud supporters of cancer survivors and fighters. Many players on each team have a friend or family member who has been affected by cancer, and each year, both teams host a Pink Out game where donations and funds raised go to cancer research facilities to help them find a cure (this year, $1,370 went to a local family, the Willetts, to help with medical costs for Mrs. Willett's battle with cancer). This year, cancer awareness was taken to another level when the girls team became involved with a local family as well as a Coginchaug graduate to increase support for the cause through the postseason.
At this year's first round States game, the girls wore owl socks from a company founded by Coginchaug graduate Jake Teitelbaum.  In May of 2015, after returning home from studying abroad in Spain, Jake was diagnosed with a resilient form of Refractory Hodgkin's Lymphoma and started treatments, including chemotherapy.  The treatments seemed to have worked. Before he went back to school, the doctors took a blood test to make sure that the cancer was slowly disappearing. Soon enough, Jake was able to go back to Wake Forest University, and while he was there, he got a call from his oncologist saying that there were still signs of the lymphoma, but that wasn't all.  His doctor proceeded to explain to him that he had a really resilient form of Hodgkin's Lymphoma and that treatments wouldn't be simple.
Every time Jake went to the hospital, they gave him a gown and plain, non-slip beige socks. Jake wore the socks, but the more time he spent in the hospital, the more he got tired of looking at his feet and seeing the ugly, colorless socks. This is when Jake decided to start a small rebellion against the lifeless socks. Jake started bringing in his own fun socks from home. They were not only colorful but some of them had different animals on them including wolves, fish and even dinosaurs. "I started Resilience Project towards the end of my treatment because socks played such an integral role in helping me maintain a positive outlook throughout the process," Jake said via email. "I wanted to help other patients improve their own resiliency, as well as those that were having a particularly difficult time paying for care."
During Jake's time in the hospital, he got major support from his family and friends. Jake also got a lot of support from the Durham and Middlefield communities. When he was in the hospital, his old high school had a home basketball game during which Jake was honored during the opening ceremony along with other cancer survivors. Jake was able to get Skyped through to watch the whole thing unfold. What Jake didn't know was that a collection was also taken at the game, but Jake was not struggling financially; in fact, his insurance covered most of his medical bills.
"Here was a community wanting to provide support in any way possible, and here I was, in a hospital on a floor with people that needed that money so much more than I did," Jake said. Then came Resilience, the company Jake created, based upon lending support to those who need it the most, whether it is financial help or emotional help, to make sure that they knew they were not alone on this journey.  Resilience works with "Wake Health, one of the major hospitals in the area, to identify patients that have financial needs and are interested in bringing light to their hospital experience with fun socks," according to Jake.  Through Resilience, patients are able to create their own socks that tell their story and how people came together to help when they needed it most. When a person or team buys a pair of the socks off of his website, 50 percent of net proceeds from each pair of socks bought will go to the family. If you don't want to get a pair of socks, you can also just donate.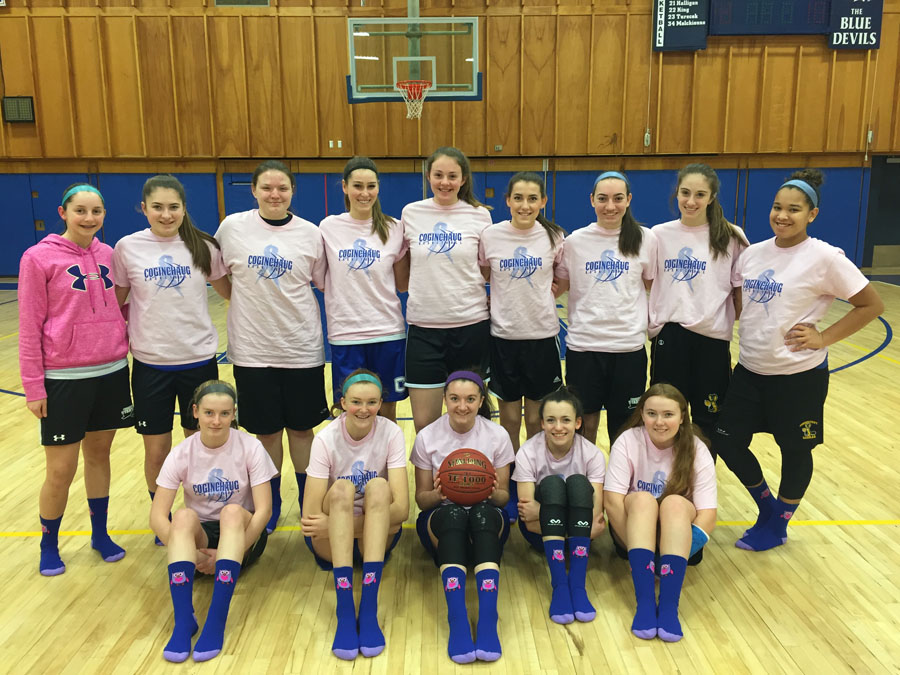 One such pair of socks was brought to the Coginchaug community. After the CRHS girls basketball senior night game, every player was given a beige box with Resilience written across it; the box contained owl socks and a card with a photo of Lilli Hicks, the girl who designed the socks and also a card that told the girls a little about Lilli. The team wore the owl socks for the first round of the CIAC Class M State Tournament, showing their solidarity in the fight against cancer as well as their support for Hicks and Teitelbaum. "The socks represented hope for us, those fighting and the survivors," said junior co-captain Ginny Benbow. "Jake showed us to never give up. Tough times don't last, but tough people do."
In 2014, at the age of 12, Lilli was admitted to the hospital with leukemia and remained in and out of the hospital for about three years. She began an intense session of chemotherapy. The chemotherapy seemed to be working, but just when the leukemia seemed to be going away, one of Lilli's blood tests showed signs of it returning. The doctors put Lilli on more chemo and radiation. Soon, Lilli had to be in quarantine because her immune system was so weak from all the chemo and radiation she underwent. On May 23, 2016, she received a transplant.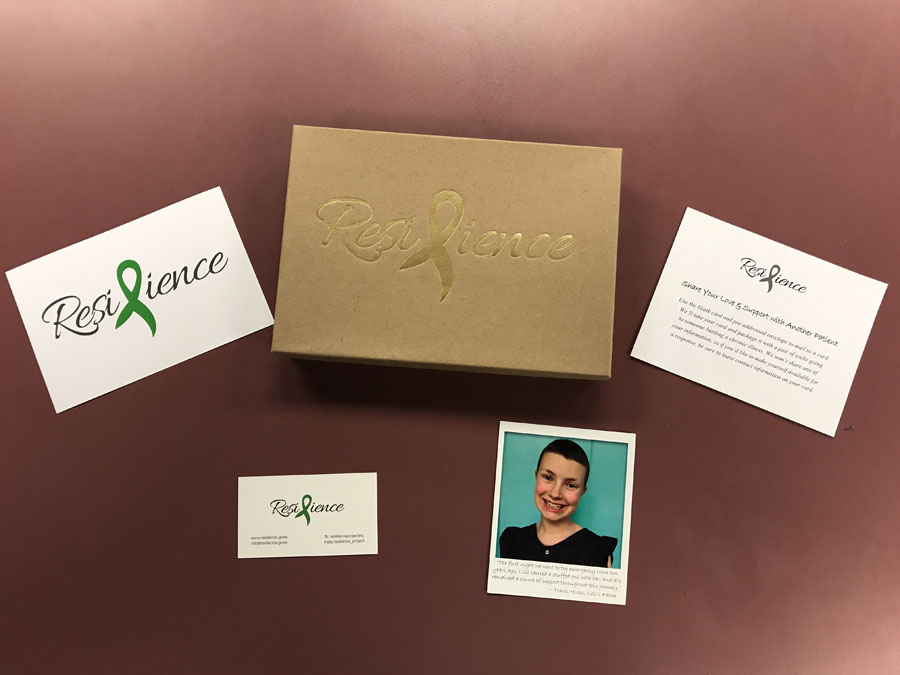 On August 29, 2016, Lilli was able to go home but was under house arrest because of how weak her immune system was not only from the transplant but all the radiation and chemo she underwent, she could not go outside or even go to school; Lilli has to take online classes and  got Skyped into others. Over the three years of being in and out of the hospital, Lilli received many stuffed owls from friends and family. "Since day one, owls have been an integral part of Lilli's care," according to Lilli's page on the Resilience website. "…It was a symbol of strength and hope when her cancer returned… the owl will forever represent the calm among the chaos of cancer for the Hicks family." Since her release home, Lilli's parents have gone back to work full time, faced with many medical bills. According to Resilience, "half of proceeds are given [to the family]" with the purchase of each pair of Lilli's socks.
"I thought resilience was about perseverance, about putting your head down and pushing through," Jake said. "I learned among this journey, however, that resilience is about accepting those low points and embracing them as opportunities to learn and grow as an individual."
*Jake Teitelbaum was featured on WTNH News 8 on Monday, April 17.