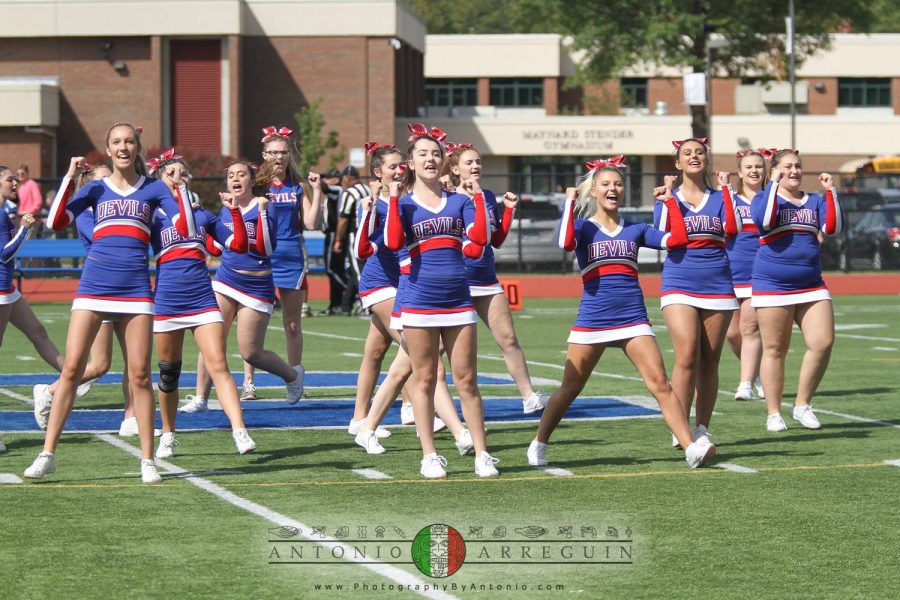 Antonio Arreguin
It seemed as if things had been off to a slow start for the CRHS cheer team with the plethora of absences due to sickness, surgeries and more, as well as getting comfortable with a new head coach, but Senior Captains Hailey Byrne and Amanda Potvin were quick to state that they have been working extremely hard and have a lot in store for game goers. An overview of this football season consists of stunting, jumps, band dances, new routines, and of course cheering.
"[We're] also hoping to get a basket toss soon. We'll start practicing those and start a pyramid," said Potvin. "We're really hoping to have a super great pyramid this year, one that we haven't done before," finished Byrne.
"A pyramid is, for our team, because we're a small all-girl team, it's typically like two halves and then another stunt group in the middle, and the stunt group in the middle does flips and tricks while the other two halves are helping," said Potvin.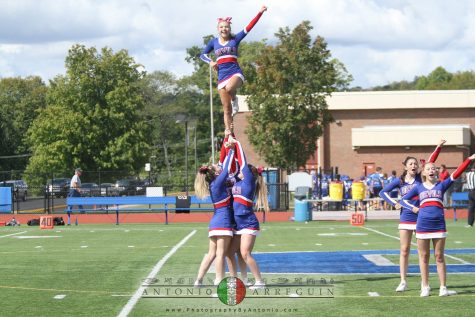 All of this seemed very futuristic but the captains said they had accomplished many goals thus far. "My stunt group and I, have gotten down ourfirst sequence for competition," said Potvin. "And we have two other groups working on the same sequence, Kaitlyn [Gribko] and Nikki [Ahern] -they're both so close," shouted Byrne. Competition is many months away, starting in the winter and stretching to nearly spring time. "For like a month and a half we have an 'off' season," said Potvin. "We start tryouts in June, and we end competition season in March."
Beyond similar goals they've had throughout their high school career, there's something different about this year's team. "We have a lot of new girls this year, which we don't always have," said Byrne. "And it's super exciting because it means we're going to be building the program a lot this year." Not only do they have a majority of freshmen but the cheer squad also possesses cheerleaders that are new to the sport itself.
The captains think that generally, people fail to recognize that cheer is a demanding sport; most even fail to recognize cheer as a sport to begin with. "I think people [perceive] competitive cheer and all-star cheer and cheering at a football game differently, but we do it both," said Potvin. "I think a big thing, especially in our school, is that they see us at the football games and the basketball games, but we have a really small crowd at our competitions, so a lot of people don't see what we're working for all year," said Byrne. "We do a lot of intense stunts, especially for a team our size we try to compensate for having a smaller team."
Potvin thinks it takes a "positive attitude, wanting to be there and a lot of strength, because the stunting we do, at our level is very demanding in the strength department. You need a lot of strength and power." "It's a very high intensity team-" Byrne joined in simultaneously with Potvin.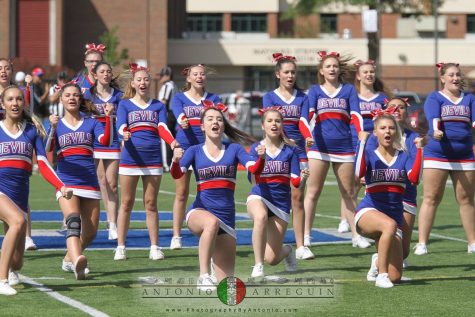 If you don't believe these superior athletes themselves, catch them at our CRHS-Hale Ray football games on Saturdays or basketball games later in the school year, and more importantly, winter competitions mainly on Saturdays as well.