"Beauty and the Beast" Starring National Singer
Emily Dell'Orfano, nicknamed Emmy, is playing Belle in "Beauty and the Beast" from Apr. 4-7 at Coginchaug Regional High School.
Emmy is senior and has been part of the music department for four years. Much of her childhood has been rooted in music. Emmy is "super excited, especially because it was [her] dream role since [she] was little." She feels "endlessly lucky," especially to be working with her cast. She considers Belle similar to her because she is "nerdy," as Emmy was voted Class Nerd for the yearbook. Both Emmy and Belle takes things very seriously and value their education but are also independent thinkers who want to get away and explore. It is hard to find differences between Emmy and Belle, although her Dad hopes Emmy would rescue him.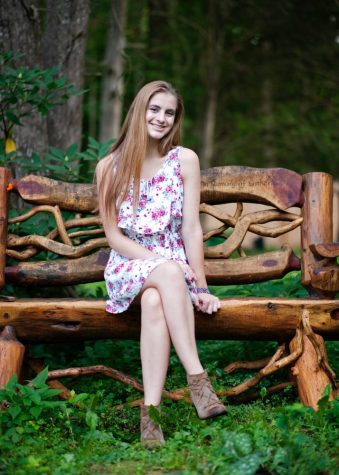 Although the scripts have just been released, Emmy looks forward to the ballroom scene and the introduction. She thinks the introduction will be awesome because the whole village is set up, and she is interacting with everyone in the cast.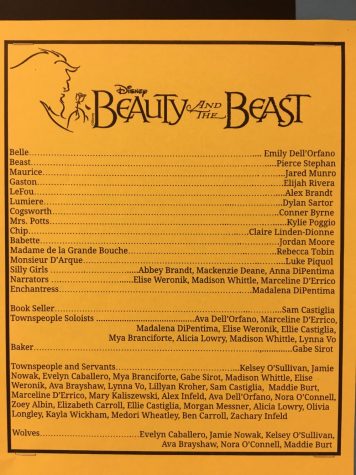 Emmy believes that the whole cast is going to shine. Specifically,  Emmy thinks "Pierce [Stephan]'s voice fits perfectly to the soundtrack;" Stephan and Dylan Sartor, playing Lumiere, are perfect fits for their roles because they are both "outgoing and flamboyant." Emmy also noted how the combination of Alex Brandt playing Lefou with Elijah Rivera playing Gaston will be funny because of the height difference (Brandt is about five feet tall while Rivera is over six feet). Emmy couldn't agree more with director Ms. Erin Schilling's castings.
Emmy is not new to the spotlight. Emmy claims her greatest accomplishment was getting into the All National Honor Choir because it was the hardest. However, Emmy considers her "peak" being on the radio for her own music. Emmy was on WPKN radio last year after an invite. She played two of her original songs and did a live interview.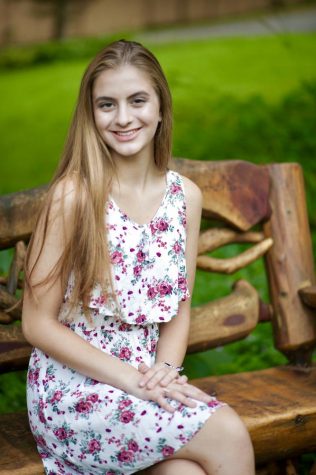 When Emmy is not acting, she spends a lot of her time doing school work and taking piano lessons. In her future, Emmy plans to go to college for music education. She would then like to get her masters degree in conducting, leading to a doctorate. Ultimately, Emmy would love to conduct at a university, but she also is planning to get her kindergarten through twelfth grade teacher certification.
Ms. Schilling and RSD13 Director of Bands Mr. Tim Fisher are two people Emmy looks up to. She knows both of them very well, as they know her. Emmy is astonished by the passion and drive they have, as she tries to one day work that hard and still enjoy it as both of them do. Ms. Schilling and Mr. Fisher are both talented musicians and put a lot of work into their job and students. "They make it look so easy, " Emmy said, "when it's not."
The cast has unwavering support for Emmy. Kimlyn Vo, a senior participating in the play, has "great confidence in Emmy. She is very talented, and she is perfect for the role of Belle. She dedicates so much time into music and is very passionate."  
"I have been excited since "Beauty and the Beast" was announced as the play," Emmy said. "I can't wait."