Great Season for The Boys of Fall
After the Coginchaug football team beat North Branford 16-14 on Thanksgiving eve, the season was over for the boys of fall. But it was a memorable season. Many individual performances from players made the 7-3 record possible.
Six players from the team were named All-Conference, including 4 from Coginchaug. Aaron Faiella was selected at the quarterback position. Aaron broke a school record in his junior campaign with a total of 2,160 yards and 24 touchdown passes. He was also able to rush for 2 touchdowns. Aaron was also selected by head coach Erik Becker for the Coaches Award. Being the quarterback, he was a major contributor to the team's performance. Fourteen of his touchdowns were to Jackson Moore, who was also selected All-Conference. He broke school records in receptions and finished his junior year with 68 receptions for 874 yards. He was also selected by his teammates as the Most Valuable Player and shared Offensive Player of the Year with the other receivers, Evan Faiella, AJ DeFilio, and Tyler Garretson.
Now on the defensive side of the ball, Garretson was selected as a linebacker. He led the team in sacks this season with 3.5 and also made a clutch interception against North Branford to keep them from scoring. Garretson was a leader for the defense and is well deserving of the All-Conference selection. 
The final player from Coginchaug selected to All-Pequot was defensive back Evan Faiella. He led the team with 6 interceptions while also having 56 solo tackles. He was a lockdown back against any receiver he matched up against. He was also the punter and shared the Offensive Player of the Year. Evan was a playmaker on defense and offense.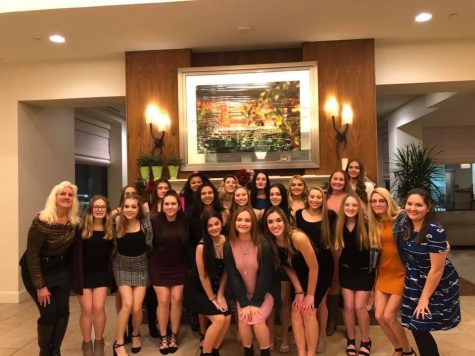 The end-of-season banquet was held on Sunday, December 8th, honoring both football players and cheerleaders for their work throughout the season. It was the last time each team got together and dinner, as well as a raffle, was held there.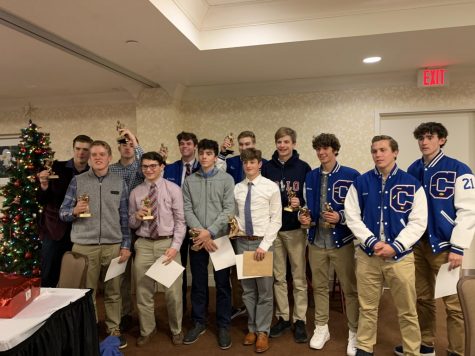 Other notable awards include Terrence Murphy winning Defensive Player of the Year, Alex Case winning the Bonnie Currlin award, and Sebby Manning winning Most Improved Player; Rookies of the Year were Jeremy Mangiameli for defense and Jack Huscher for offense. 
For Cheer, Most Valuable Player was Jill Branciforte, Coaches award was MaKenna Davis, Top Tumbler was Hope Wondolowski, Top Jumper was Korilyn Martone, and Most Spirit was Leah Wagner.
The season overall was successful and enjoyed by the athletes. Both teams will be looking to build on what they left off next year.
Leave a Comment