JCL Competes in State Latin Day
On May 1, Coginchaug students competed in the 34th-Annual Connecticut State Latin Day. There were 52 schools there, all dressed in roman attire.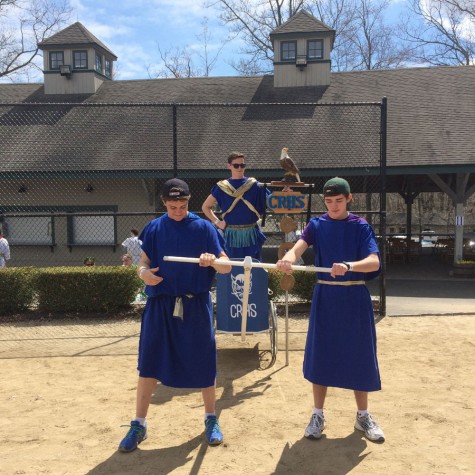 The students from CRHS competed in a variety of events such as written tests, athletic competitions, workshops, and artistic contests. Not only did the students compete in these events but they did very well. They defended their first place win in bocci. Seniors Jacob Burt, John McLaughlin, and Nathanael Weir came in second place for their chariot design. McLaughlin said, "We stopped at Goodwill in a last ditch effort and got a wheel chair. We stripped it down and built the chariot up around it." Burt added, "We couldn't find material that would bend enough, so we decided to make it a trapezoidal front with cut sections of plywood."
Senior Ryan Gossart won first place for his replica of a roman military standard. He said, "It was based on real models. I inherited the PVC T-shape from a former student, but the rest of it I did myself."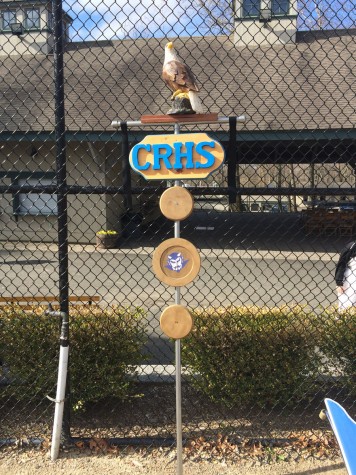 The team hopes to earn more awards from the academic tests they took. Sophomore Otto Wallach said, "I have taken the History & Civilization test, and I feel like I did swell on that one. I also took the Authors and Literature and the Derivatives tests."
Beyond competing, the students participated in other activities offered throughout the day. Wallach said, "I got a lot of the ice cream. The games were fun as well." Freshmen Cooper Berry and Jack Howell played horseshoes and mini golf after they took their test.
"I played horseshoes with Otto," Berry said. "He beat me pretty bad, but I taught him, so really I defeated myself."
The CRHS Junior Classical League is advised by Latin teacher Mr. Brian McCarthy.