Government Program Helps to Lessen Food Waste at CRHS
According to independent newsmagazine Grist, every day across the country, $5 million worth of school lunches get wasted, and up until 11 years ago, food waste was the norm in District 13.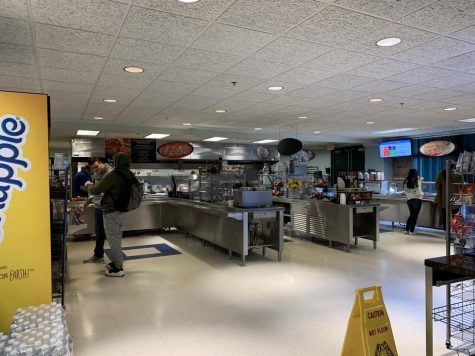 However, after District 13's implementation of the Offer versus Serve program in 2008, the amount of food thrown away by students in the District has drastically decreased, according to District 13 Director of Food Services Mark Basil.
Offer versus Serve is a federal program created by the National School Lunch Program that allows students to take fewer than the five food groups usually mandated; however, the student must choose a fruit or vegetable.
"The state says that you must offer five of the food groups," explained Basil. "The Offer versus Serve tells us that we don't have to force the kids to take all five if they don't want. [The students] can just take three, and we can still ring it up as a meal."
At the end of the week, any unused cooked food and produce are thrown away, so alongside the Offer versus Serve program, at Coginchaug and Strong, another attempt to reduce food waste is making food to order, such as sandwiches and salads.
"We try not to get rid of food – that's why we make so much to order," Basil elucidated. "We don't pre-portion and pre-package 
a lot of items. If we have any salads that are leftover, they get thrown away."
Making sandwiches and salads to order controls and minimizes waste at both Coginchaug and Strong, according to Basil.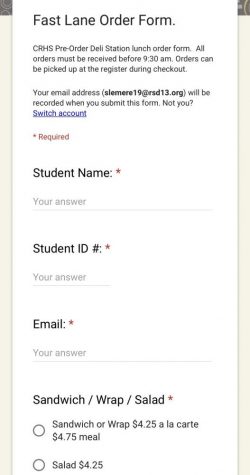 However, at the end of the year, certain leftovers don't get thrown away. Instead, they get donated to those in need.
"At the end of the school year, if we have stuff we can't use, whether or not it's milk or produce or juice or things like that, we donate it," said Basil. "For the past seven years, we have donated food to St. Vincent de Paul in Middletown."
These efforts have been very effective in the district, according to Basil, who has seen the amount of food thrown away by students lessen since the implementation of Offer versus Serve.
Basil thinks the lunch program as a whole is very successful and effective and believes the cafeteria staff is a big part of what makes it work, as well as the students.
"We're really lucky because this cafeteria staff has been together for a long time, and they know what they're doing, and I'm lucky to have them," explained Basil.  "They control waste, and the biggest thing that we do is that we want to put what you all want on the plate and not force you to throw away."
Cafeteria Manager Jane Schmitt agrees with Basil and thinks the lunch program offers many great choices of food, both breakfast and lunch.
"I am very pleased with our program, and it seems our kids are too," said Schmitt, who has been with Coginchaug since 1983. "I feel the students here are very lucky with all the choices they have.  I'm happy that we offer breakfast for kids that don't have time to eat at home, I feel that's really important."
"I enjoy the opportunity to have breakfast at school because we start too early, and I don't have time to eat at home," said senior Megan Lower. "I find myself rushing to get out of the house in the morning."
To help improve the program, Basil wants to connect to with the students more, and he wants to learn what the students want for lunch, in hopes to have less food thrown away in the future.
"[The cafeteria staff and I are] always looking, and I go to food shows to try to get new ideas for food," Basil said. "I'll ask students; I'll ask a lot of people. We're always looking for feedback because it's your guys' program, and nothing is going to sell if you don't tell me what you're looking for."
Basil takes the feedback seriously, and suggestions that have been made by students have been implemented into the program.
"A lot of people missed the tater tots, and [Basil] gets us the food we want," said senior Connor Rulnick, who went to Basil about getting tater tots back in the cafeteria. "The tots seemed like a really big hit because they were gone so quick. He's really good about listening; in fact, he wants students to make suggestions. [The suggestions are] a big part of his job."
You can contact Basil with food suggestions, feedback or any questions at [email protected].