How Stacey Abrams is Leading the Fight Against Voter Suppression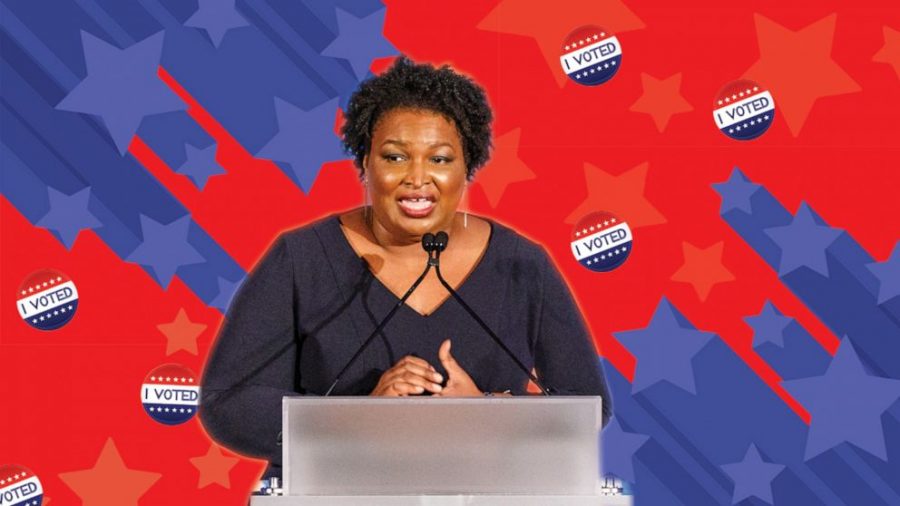 "Democracy only works when we work for it. When we fight for it. When we demand it."
In November of 2018, Georgia Gubernatorial candidate Stacey Abrams took a bold stance against voter suppression. She refused to concede the election to her Republican opponent. Speaking the words above, Abrams demonstrated her dedication to securing voting rights for all Americans. Her remarks come as a response to the strict voter ID laws that her state of Georgia and other states have adopted in the last half of the decade. Specifically, she was protesting the discriminatory nature of these laws and how these laws stifle non-white voices.
History of Voter Suppression
Voter Suppression has been a stain on American democracy since the inception of the nation. It has persisted as a tool powerful white men utilize to stay in power. While Jim Crow laws may be a thing of the past, recent trends in states' voting practices hint at an upsurge of systemic racial discrimination. 
The inciting action was in 2013 when a Supreme Court case rolled back the protection provided to minority voters through the historic 1965 Voting Rights Acts. This decision removed specifically worded language in the act that forced regions with a significant history of voter suppression to pre-clear any new practices or procedures. As a result, voter suppression laws have increased, especially in key states with Republican-controlled state legislatures.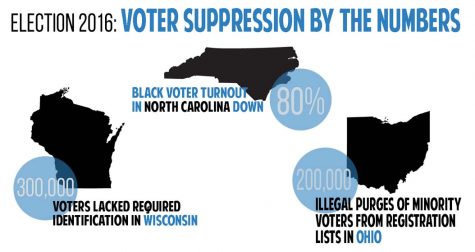 Rise of Strict Voting Laws
The Brennan Center for Justice conducted a study analyzing voting trends and found that approximately 17 million voters were purged nationwide from 2016 to 2018. This study also found that regions with a history of voter discrimination were purging voter rolls at a rate 40% higher than the national average. 
This issue has shown most brightly in Georgia, especially in the 2018 gubernatorial election. Widespread confusion was rampant in Georgia on election day for a couple of factors. To begin with, more than 200 polling stations across the state were closed, predominantly in poor and diverse neighborhoods. New voter ID laws also confused, as citizens found themselves on election day unsure if they were able to vote after being notified that their voter registration was being flagged for review. 
According to the same Brennan Center study, "[In Georgia], 53,000 voter registrations – 70% of them for African American voters – were flagged for review under the state's 'exact match' rule."
The "exact match" laws enabled a system where if someone had a discrepancy in the spelling of their name between the voter rolls and their state records, their voter registration was flagged for review. The error could be as insignificant as a missing letter or hyphen.
These laws did not proportionally affect all Georgians. Non-white voters are most likely to be flagged for review since predominantly white election officials are more likely to make errors entering the name of non-white voters into voting databases as they may be unfamiliar with the spelling or format. What is especially troubling is that these discriminatory laws were created and enforced by Brian Kemp, the chief elections official at the time and the Republican running in the gubernatorial race. 
Kemp authorized the elimination of over a half a million voters from the voting rolls, 10 percent of these voters being purged only a year before the election under Georgia's "use it or lose it" laws. This move has been argued by election-law experts to possibly be the largest mass disenfranchisement in U.S. history. The Georgia inactivity laws were designed to address the removal of voters who have died, moved, or gone to prison. However, in 2017, this wasn't exactly the case. 
According to an APM Reports analysis, 107,000 voters, 20% of all voters removed, were purged from the rolls "not because they moved or died or went to prison but rather because they had decided not to vote in prior elections." Moreover, these voters were not notified that this was occurring and that their inactivity was putting them at risk of losing their right to vote. 
Kemp has rationalized his strict voter ID laws and the purging of inactive voters as a necessary means to fight against voter fraud. 
"I've staked the integrity of my whole career on the duty that I have as secretary of state. I have always fulfilled and followed the laws of our state and I'll continue to do that," argued Kemp. 
However, despite warnings from the Republican party, the type of voter fraud these laws aim to diminish is rare. In an investigation carried out by law professor Justin Levitt, he found that from 2000 to 2014, the period of time before these laws took effect, there were only 31 verified cases of voter identification fraud out of one billion votes. 
The Real Effect 
The evident purpose of these strict voting laws was to limit the political participation of people of color. Studies have shown that racial and ethnic minorities have less access to voter IDs, which correlates to the turnout gap of non-white voters compared to white voters.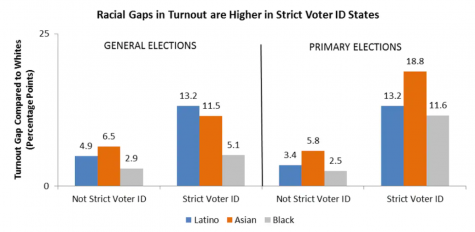 Nonetheless, what brought the Georgia gubernatorial race to the forefront of national headlines was the effort by Democratic candidate Stacey Abrams. She put Kemp's efforts to suppress non-white votes, votes that would most likely secure Abrams's win, on full display. Abrams ultimately lost the election, but her fight did not end there. 
Abrams famously refused to concede right away, claiming that her opponent utilized voter suppression laws to unfairly secure his win. While it is unsure that even with the votes that were lost to Kemp's voter suppression efforts would have been enough to secure Abrams's victory, Abrams's activism transcends her own political victories. 
Fighting for Change
Shortly following her defeat, Abrams launched the Fair Fight 2020 campaign that will specifically address voter suppression in 2020, amongst other things. This campaign is conducted by Fair Fight, a political action committee (PAC) led by Stacey Abrams that fights against foreign interference and voter suppression laws to ensure every American has access to their vote. 
"Fair Fight 2020 will help staff, fund, and train robust Democratic voter protection operations in battleground states across our country, starting immediately," according to the campaign's mission statement. 
Furthermore, in 2018, Fair Fight sued the state of Georgia for suppressing non-white voters and misgoverning the 2018 election. The lawsuit identifies the state board of elections and then-interim Georgia Secretary of State Robyn Crittenden as the main defendants. However, the lawsuit is mostly aimed at Kemp because of his aggressive effort to tighten voter ID laws and the fact that he did not resign from his position as the state's chief elections officer until two days after the election.
The true danger facing our democratic elections is not voter identification fraud; It is the interference of foreign powers and attempts to stifle non-white voices. The true issue lies in the fact that the people in power, specifically the Republican legislatures who have to ability to redraft the laws, are the ones who benefit from them. Nonetheless, there are dedicated individuals like Stacey Abrams and her Fair Fight team who are working relentlessly to ensure all Americans are not blocked from exercising their right to vote.