2020: The Year Without a Durham Fair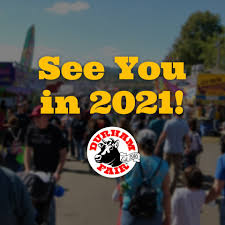 For many of us longtime Durham and Middlefield residents, we have grown up with the Durham Fair. Some of our fondest memories might be riding the ferris wheel, seeing performances on the big hill, or even getting a big donut. Some of us have grown up with the fair, never missing a year of it. Unfortunately, this will be the first year some people won't go to the fair. 
On May 14, Durham Fair President Daniel Mirament took to social media sites such as Instagram and Facebook to announce the sad news to the public.
 In the post, Mirament says "Given these challenging and changing times, we have been faced with making a very difficult decision regarding our historic fair."
Prior to this, the fair has only been closed four times. Three of those times were due to World War II (1942-1944) and another due to the hurricane of 1938. 
Even though many are heartbroken about the situation, it is ultimately the right decision to make in these uncertain times. With COVID-19 starting to decline in our state, we must do everything we can to stop it from returning again. Having the fair this year would only hurt the cause. The fair is currently rescheduled for 2021, and even though people will miss it this year, it will just make next year's fair even more sweet.
Leave a Comment