Coginchaug Welcomes New Front Office
This year, the front office has two brand new faces in the two highest roles at Coginchaug. 
Mr. Matthew Warner and Ms. Katharine Trainer both arrived at Coginchaug, coming from other Shoreline Conference schools. As they finished their first full month at Coginchaug, I sat down with them to discuss where they come from, their expectations, and their adjustment to the district. 
Mr. Warner is Coginchaug's new principal. Before coming to Coginchaug, he served as a history teacher and team leader, and then assistant principal at East Hampton High School, where he also served as a volleyball and softball coach. "I always knew Coginchaug as a school with strong academics, athletics, music, and a proud community spirit," he said.  When looking for the step up to become a principal after 14 years in East Hampton, Warner only wanted to become the principal at Coginchaug. "I was just taking a shot [when he applied to Coginchaug as principal], and I got it," he explained. A press release by the district said that Warner was, "selected from among 36 applicants through a very rigorous process that included a written performance task and several interviews." 
When discussing the future of the year and his relationship with the student body, the principal said that, "I want to validate any idea to better themselves or the community and to support [them] in any way I can. I will say yes until I have to say no." He said that he is also working to make major events which were cancelled due to the pandemic happen, such as the Washington, D.C., trip for the Senior class.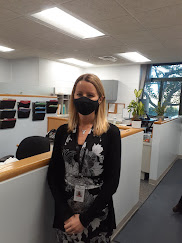 Ms. Trainer, the new assistant principal, was the Director of Bands and Dean of Students at North Branford High School before coming to Coginchaug. "I always knew of Durham and Coginchaug since I grew up in Connecticut," said Ms. Trainer, "and it's certainly living up to the high standards it was brought up to me for, and I can't wait to learn more about the traditions of the school and to learn about everyone," she said. 
Both Mr. Warner and Ms. Trainer said that their expectations of Coginchaug were met throughout their first weeks at the school. "Everyone has been extremely kind and welcoming," Ms. Trainer said. "I've connected with the community on the surface already, and I'm looking forward to making these connections grow," said Warner. 
Former Principal Brian Falcone was appointed Superintendent of Plymouth Public Schools effective at the beginning of the 2021-2022 school year. Former Dean of Students Beth Melilio moved to Plymouth as well to become the Director of Pupil Personnel & Special Education.
Leave a Comment