Coginchaug Unified Sports Goes Duck Pin Bowling
Coginchaug Regional High Schools Unified Sports class took a trip to Highland Bowl in Cheshire, Connecticut on December 22nd, 2021. 
A mix of athletes, alumni, teachers and staff broke into five teams and participated in "Duckpin Bowling" in which the pins are smaller, lighter and thinner than normal bowling. Overall, this is an engaging and positive experience for all students involved. Students bowled, uplifting and cheering each other on, with a lot of healthy competition.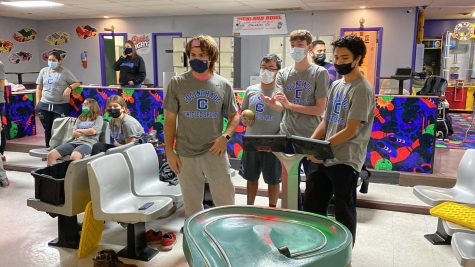 (Pictured from the left: Francesco Marotta, Alex Paulson, Brady Koba and Mekhi Watson)
Robert Bajoros, a Health and Unified Sports teacher at Coginchaug Regional High School, gave us some background information on the club in saying "we started in 2015-2016 with just the unified sports class, we went on these types of events, only with unified sports students who were in the class." But over the years, "we now invite the alumni of the program and the students that are in the Campus Unification class." 
Campus Unification is about "unit[ing] students with or without disabilities to engage in extensive research, explore resources and see their dreams becoming a reality," according to the CRHS Program of Studies, involves inclusivity and togetherness in our school. 
Bajoros also said that "it's a great way to bring people together, some students help out in the special education program that are not in unified sports but they still get to come and bowl with us and have fun." He sees it as "a way for students to bring students in the school together and this is just one vehicle to bring them together."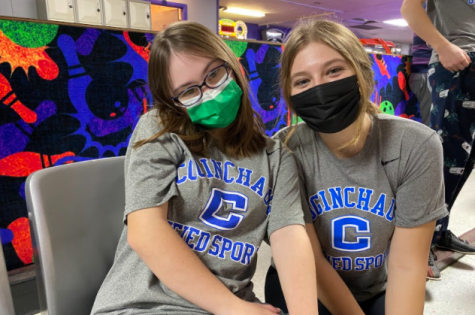 (Pictured from the left: Marissa Inglis and Inari Staron)
Throughout the entire day it was obvious that Unified Sports creates an accepting and incorporative environment for teamwork and sportsmanship. Billy DeCarlo, a freshman who has participated in the club for about a year and a half said that the club "impacted [him] in a good way." Katerina DiNallo, a senior who has participated in the club for her entire highschool career, said "it helps with inclusion and it helps kids with disabilities." Kiyah Kulpik, a junior alumni, said " Unified Sports is a great time for me to be with my cousin Alex, it's one of the only classes I get to be with him and something that always brought us together is sports. It's a good time." In the end the students shared pizza and headed back to school.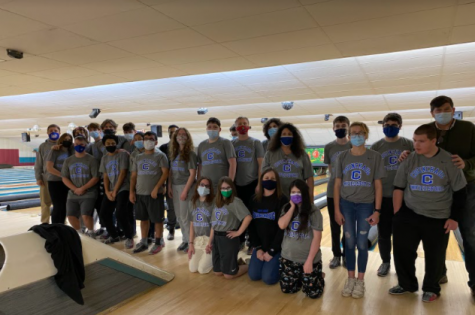 (Pictured: Members of Unified Sports)
Leave a Comment