It's Time to Discuss Antisemitism
This week, the Jewish people read the section of the book of Exodus which recalls the Israelite people escaping the bondage of slavery in Egypt. Yet, this same week, four Jews and their Rabbi were being held hostage in Colleyville, Texas. 
I am a Jew. I'm not afraid to show my Jewish identity in public. I wear a Star of David and hamsa (a symbol of good luck) bracelets every day on my wrist. Those bracelets were bought in Israel.  There are days where I'm proud to be Jewish: the time I first prayed at the Western Wall of the Temple Mount, (the holiest site in Judaism), or the day of my Bar Mitzvah. But then there are the ones which I'm scared to be Jewish. 
I remember the day of the shooting at the Tree of Life Synagogue. I was attending the Bar Mitzvah of a friend. My mom read the news from Twitter about a shooting at a Pittsburgh synagogue. We were in shock. The next Friday night, we went to services at our temple. It was the most crowded service for a regular Shabbat evening service. The entire interfaith community, from Muslims to Christians to Hindus were there, standing in solidarity with us. Solidarity doesn't just have to to be through interfaith matters.I remember in early January 2020, walking across the Brooklyn Bridge with over 20,000 other Jews in a show of solidarity against the rise in antisemitism. Together, it seemed like we could actually do something about this issue.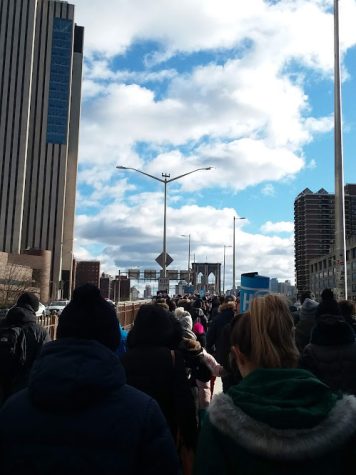 Why does it keep happening?
Antisemetic tropes always have existed, but since the rise of the Nazis in 1930s Germany, they have became much stronger. It is a battle from looks, as many antisemetic tropes come from body stereotypes such as large noses. Antisemitism has come from every side of the poltical spectrum. From the modern BDS (Boycott, Divest, Sanction) movement to the Klan, Jews are attacked at all sides.The common belief that Jews control the government, the economy, and the press.  Signs of loyalty are also thrown into question, as many believe Jews are more loyal to Israel than their own country. 
Another big issue is that Jews are a group of people who are very spread out across America, located in large cities such as New York and Southern Florida. This results in many people not knowing much about Jews, which makes them more likely to believe Antisemetic statements. This problem is made worse by pop culture, in which there is a glaring absence of Jewish characters. Jews are almost never seen outside of Holocaust historical fiction, and when they are, they tend to be shoved to the background or thrown into the limelight in Bar and Bat Mitzvah ceremonies and the token Hanukkah episode. 
As a proud Jewish student at Coginchaug, I'm not asking for much. I'm asking for those who I stand up for to stand up for me. After the murder of George Floyd, I proudly locked arms and walked in the steps of my forefathers who walked with Martin Luther King Jr. to Birmingham. My ancestors immigrated to this land to escape persecution; I proudly stand up and fight for immigrants and welcome them into this country with the same open arms which the Statue of Liberty, whose pedestal is inscribed with the words of Jewish poet Emma Lazarus, tells us to do. Even the very same person who held the four worshippers and their Rabbi hostage in Texas was welcomed into the building because he said he was living on the street. But when the time comes when Jews need solidarity, I feel as though I am not given the same support from my peers. 
Throughout the last few years, I have posted about antisemitism and the rise of it throughout the world on my Instagram story. One post kept circulating through my posting. It was just text. How Jews can hear your silence regarding antisemitism. How we hear you talking about every other social issue besides antisemitism. It provided one simple question: when we have your backs, will you have ours in return? 
The answer I've consistently gotten is silence. I want to know I have the support of my peers for being who I am. It's not just for me, I want all of my fellow Jewish peers all over the world to know they have support. 
I feel some sort of duty to write this. During Yom Kippur services this year, the President of my congregation said why she wears her Star of David necklace: to protect those who are more observant. I may be the only Jew some students may meet in their life. I am not that observant, compared to many. While many more observant people grow out their beards, I prefer to be shaven. While Friday and Saturday are supposed to be rest with little interaction with technology and the rest of the world, I go to school to play in the pep band. While others follow a strict interpretation of kosher laws, one of my favorite meals is a cheeseburger – something which is prohibited. But then, I am still Jewish. 
Many don't understand the diversity of Judaism. It isn't just a religion, it's a culture and a family. I have friends who are Jewish from every corner of the country, from San Diego to Bar Harbor, Seattle to Tampa. I know people who know the Rabbi who was being held hostage. We come from all different backgrounds, but we are connected through our faith. When one voice emerges, people will hear it and amplify the message. 
I won't stop being Jewish because of the threat of antisemitism: it willl only make me louder. 
Leave a Comment