A Taste of the Real World
What initially started as a hypothetical assignment soon became a reality for the students in Mr. Donecker's Marketing Essentials class. Since October, these students have participated in various projects, researched, and developed a plan–all with the ultimate goal of successfully creating and marketing a business to present to the school.
In small groups, students collaborated on a marketing campaign for a food truck business of their own creation. This involved formulating a business and financial plan, sending out market research surveys to potential customers, creating social media posts, and designing a visual poster detailing key aspects of their company. 
While the class is called "Marketing Essentials", students learned much more than just the essentials. Students experienced firsthand the blueprints of creating a business from the ground up–from logo creation to brand image and presentation as well as the mission, vision, and the central goals of a company. The course helps students remember and explore the concepts through the experience of actually creating a company. Business teacher Ryan Donecker commented that the course is valuable as it focuses on "skills that are directly translatable to future career choices."
Other aspects of business management were covered such as financial plans, industry overviews, and organizational and management types of a company. Sophomore Hannah Nelson detailed how the Marketing Essentials course "didn't just focus on advertising and promoting" but instead enabled students to experience "every aspect of marketing and entrepreneurship."
On Tuesday, January 17, 2023, the Marketing Essentials class held their first annual Food Truck Festival where great effort, determination, and perseverance from each of the groups was evident. The purpose of the festival was to showcase the marketing campaigns the teams of students created for their unique businesses throughout the semester and invite the school community to vote for the food truck they would hypothetically invest in.
Each of the six groups created free samples of the food offered by their food truck to hand out during both lunch waves while simultaneously promoting their business. Through this, they gained real world experience as they were allotted a budgeted amount of money for ingredients and supplies needed to develop their product. Their peers and faculty members then had the opportunity to sample the food, view their marketing campaigns, and interact with the team members. 
Each student had $1,000 to "invest" and teachers were able to "invest" $10,000 by scanning a QR code to vote for the food truck of their choice. A variety of creative marketing techniques were incorporated by several groups including a raffle promotion for limited edition stickers hosted by The Truffle Truck, multiple types of waffles offered by World of Waffles to appeal to different target markets, and cookies included with selfTop's vanilla ice cream. The scores are listed below!
World of Waffles – $67,000 (67 votes)
The Truffle Truck – $54,000 (54 votes)
selfTops – $29,000 (29 votes)
Chomp – $22,000 (22 votes)
Smooth Smoothies – $19,000 (19 votes)
Perfect Pastries – $13,000 (13 votes)
Although the Marketing Essentials class has existed for nearly a decade, this is the first time that the Food Truck Festival was a component of the course. Mr. Donecker was pleased about how the festival went, describing it as "a great success" and noting that "the bar was set pretty high for future classes". His vision for the future includes both expanding the festival to include even more of the student population and extending collaboration with the CRHS foods program.
To any students who find themselves blankly staring at the Program of Studies in February, unsure which classes to register for in the upcoming year, Marketing Essentials is an interactive, fun, and collaborative class you won't regret taking!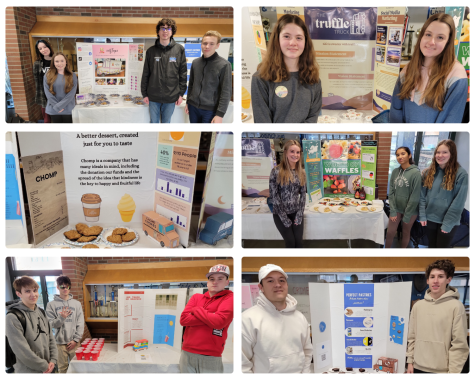 Top left: selfTops with team members Grayson Hesser, Hannah Nelson, Christos Wheatley, and Frank Amirault pictured. 
Top right: The Truffle Truck with team members Brooke Konefal and Lauren Konefal pictured. 
Middle left: Chomp with team members Colton Climie, Nico Prifitera, and Cole Wright not pictured.
Middle right: World of Waffles with team members Charlotte Dunleavy, Diya Patel, and Etta Funke pictured.  
Bottom left: Smooth Smoothies with team members Owen Lussier, Cameron Spencer, Carson Sewell pictured and Andrew Abely and Dylan Abely not pictured. 
Bottom right: Perfect Pastries with team members Ethan Sirois, Adam Schaffer pictured and Ryan Newberry not pictured. 
(The authors of this article were members of the Marketing Essentials class and participated in the Food Truck Festival.)
All photos were contributed by Mr. Ryan Donecker.
Leave a Comment