"Coco" Tells the Tale of Death in a Vibrant World of Life
By Jackson Volenec & Patrick Kearney
In recent years, Pixar is back on the rise releasing original films such as Inside Out (which had received high praise in 2015), and their newest movie Coco.  Pixar used to be the undisputed kings of the animated movie market. They had dominated the industry since their debut film, "Toy Story," in 1995, and up until their end to the trilogy in 2010, "Toy Story 3." Over these 15 years, Pixar released 11 full-length feature films in the theaters, receiving massively positive critical acclaim and hundreds of millions of dollars in profit. However, after the 2010 mark, they had a few inconsistent releases with lukewarm reviews, such as "Cars 2" and other movies that were not as well received by fans of Pixar, such as "The Good Dinosaur," "Brave" and "Monsters University." These films were not considered as memorable by fans and critics alike. One of the most common complaints about Pixar is how most of their new films are simply sequels to previously existing movies that were successful. However, with this new film "Coco," that complaint does not apply.
 The film features a multitude of Hispanic actors, experienced or otherwise. Benjamin Bratt, for example, has been in over 20 film and television roles, while "Coco" is twelve-year-old Anthony Gonzalez's first role. Said voice cast is extremely talented at what they do, especially Gonzalez, a child actor with genuine range and ability. This is quite a rarity; when compared to other child actors, Gonzalez does not feel like a cardboard cutout "kid."
 Miguel is a young man who is in love with music. More specifically – one musician, Ernesto de la Cruz. Unfortunately for him, however, his family has banned music for generations, after his great-great-grandfather left in pursuit of his musical career. In order to prove his own talent and reignite the love of music in his family's eyes, Miguel takes de la Cruz's guitar and accidentally travels to the land of the dead. Here, he meets a charming skeleton named Hector and the two embark on a journey to find de la Cruz, who Miguel now believes to be the very same man who left his family.
 The film includes incredibly sticky and intoxicating songs throughout the film, which carry the Latin American inspired theme of the film. Some of the songs are actually relevant to the plotline, especially the single off of this film, "Remember Me." Not only is the instrumentation for this film fantastic, but the singing from all of the cast members are incredibly well performed and moving. This film is an absolute love letter to anyone who is a fan of Latin American music.
 As far as the animation and the visuals of the film, Pixar comes through with yet another beautifully animated wonderland of color and imagination breathing throughout the world they portray. Some of the most breathtaking shots in this film are the wide angled shots of the city in the land of the dead and the spirit guardian animals. These images portray such imagination and color, bringing even more life to this film.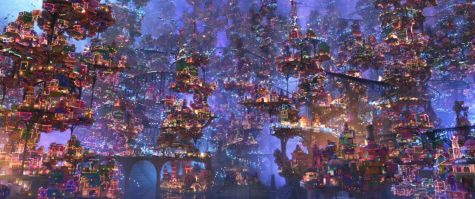 "Coco" tells an engaging adventure story, focusing on the value of family, ancestry, music and following your own passions and pursuing what you truly love to do. It tells this story in a beautiful and vibrant world, showing off some of Pixar's best animation to date with a fantastic soundtrack to back it up. Pixar does what they do best, utilizing all of their strengths to make this great movie any person of any age can enjoy, between the catchy soundtrack, the exciting yet emotional plot, and the witty humor sprinkled throughout.
 We can confidently give this film an 8/10 rating, and it is a must-see for any Pixar fan.