Modern Journalism Issues Tackled in Spielberg's "The Post"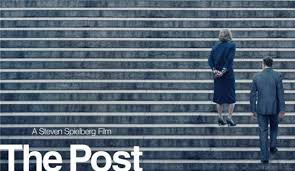 Hang on for a minute...we're trying to find some more stories you might like.
Directed by Steven Spielberg | Prod. by Steven Spielberg | Written by Liz Hannah, Josh Singer |PG-13 | 1h 49m | Drama, Suspense | Released Jan. 12, 2018
By Jackson Volenec & Patrick Kearney
     March 20, 2018
 In modern day America, the honesty and possible bias that newscasts and papers have is an extremely controversial and commonly talked about subject at hand. Furthermore, our president has been a very vocal critic of the United States media. From Trump hosting a "Fake News Awards" and referring to the second largest newspaper in the US as "failing," there has been a lot of controversy surrounding whether or not the press is providing honest and unbiased content. So, you know when Steven Spielberg subsequently announces his newest film about "The Washington Post," starring Tom Hanks, Meryl Streep, and Bob Odenkirk, you are certainly in for an interesting film.
 No matter the political context, this film is by all means fantastic in many ways and will most likely last the test of time where this current journalism crisis may not be as relevant as it is now. The dialogue between Tom Hanks's and Meryl Streep's characters are constantly tense and engaging. Both actors provide stellar performances which will immerse you into their conversation. You can nearly read their thought processes as they expertly convey each character's feelings through their body language and facial expressions as well. This riveting dialogue is complemented by Elizabeth Hannah and Josh Singer's masterful screenplay and cinematography, which provides creative shots throughout the movie. All of these factors build the suspense that Spielberg clearly intended the viewer to feel while watching this movie. The problem feels very real, and you can really understand why Streep's character is hesitant to release this information about the government, as it is legitimately jeopardizing her entire life's work. Yet at the same time, the viewer may want Streep to go through with it for the sake of the general public. Both arguments are fair in their own way, leading to even more intrigue – what will she end up doing?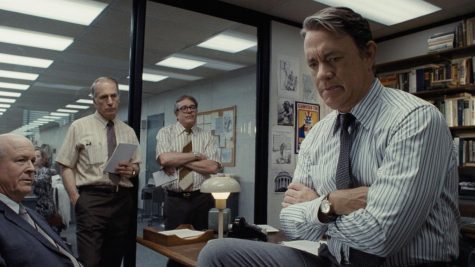 This movie has a slower start than needed, however. The beginning of the film focuses on a side story that turns out to be unimportant to the main idea of the story. This is not a huge problem, though, because by the second and third act of this movie, the story picks up tremendously, and the pacing is appropriate.
 The musical score, as expected, is fantastic. John Williams's consistent soundtracks throughout the years have never disappointed us, and The Post is no exception. The orchestral symphony adds tension and suspense to already uneasy scenes. There are plenty of times throughout this film during which there is nothing but Williams's music playing throughout the scenes, without any dialogue for the viewer, but the actors and their distraught expressions with the music amplify the nerves.
 This film is critically successful not only because of its intelligent commentary and relevancy in regards to modern day American journalism, but also its masterful cinematography, a well written screenplay, stellar performances, and John Williams's score that elevates this movie's tension. This is a film deserving a confident 8/10 score because of Spielberg's all-star cast of actors and his overall knowledge of filmmaking. Though the film has a slower start, this is a must-see for any person interested in journalism, American history, or Spielberg's movies.