CRHS Envirothon Team Places In Top Ten at Annual Competition
On Thursday, May 24, the CRHS Envirothon team competed at the Connecticut Envirothon at Topsmead State Forest in Litchfield, Connecticut. Seniors Mary Mitchard, Ashely Tang, Sam Titus and Garrett Basiel, alongside junior Justin Gagner and adviser Mrs. Susan Michael, placed 10th overall in the competition.
The team tied for second place in Aquatics, while placing ninth in Wildlife, twenty-second in Soils, fourteenth in Forestry and tenth in the annual Issue, focusing this year on the issue of Bobolink preservation at UConn.
"We had a pretty tricky season…We placed tenth out of thirty-two teams, which is pretty good," Mitchard explained. "We did a lot better than we thought."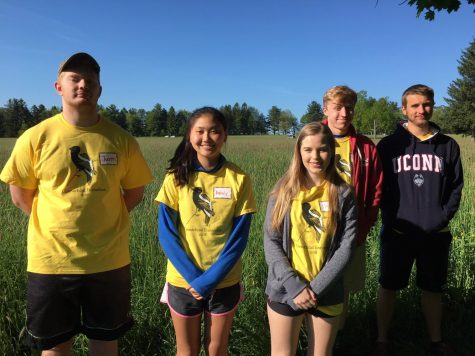 Using study guides and going to workshops on different topics throughout the year definitely helped the team to place as high as they did. They also use identification booklets for different classifications of animals and plants to help prepare for competition. Along with preparing for the main categories, the team did a lot of research on their Current Issue category about Bobolinks, which took a lot of work.
With over half of the team graduating, Gagner says that the main thing to work on for next year is to "get a team together with teammates that really care about [Envirothon]."
An issue they ran into this year that they hope will resolve next year is getting a team that can be there most of the time, with sports and practice times getting in the way of meetings this past season.
"Envirothon is great because we are all passionate about the environment and learning about it and want to go into the field," Tang said.
Leave a Comment