Evan Wenchell Drums His Way to Victory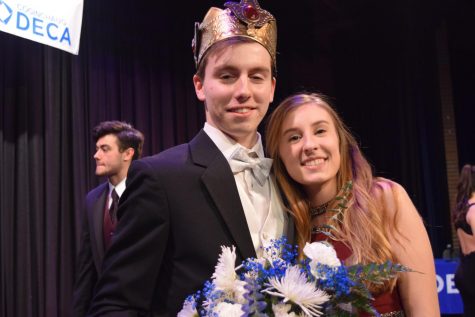 On March 15, 2019 senior Evan Wenchell was crowned the sixth-annual Mr. Coginchaug, placing first out of 10 contestants who faced off in pre-competition penny wars, an opening group dance, and displays of individual and paired talents, followed by a top-five interview round in DECA's biggest fundraiser of the year, held in the Julian B. Thayer Auditorium.
Hosted by juniors Pierce Stephan and Jared Munro, the contestants were judged by math teacher Ms. Maria Alteri, English teacher Mrs. Michelle McClintick, and resource officer Mr. Rich Astorino. Also competing alongside Wenchell were seniors Bryce Fleck, Ryan Genest, Bobby Huscher, Terry Lockwood, Aidan O'Connell, Dominic Pascarelli, Elijah Rivera, Hayden Rovelli, and Connor Rulnick.
The evening began with the 10 contestants participating in a dance routine choreographed by junior Julia Kosienski, followed by their talents showcase.
Because Rivera is the only contestant really involved in the school musical, O'Connell said it pushed the other boys to cultivate their talents, adding that Rovelli and Pascarelli "wouldn't have thought of [synchronized swimming] without being outside the box."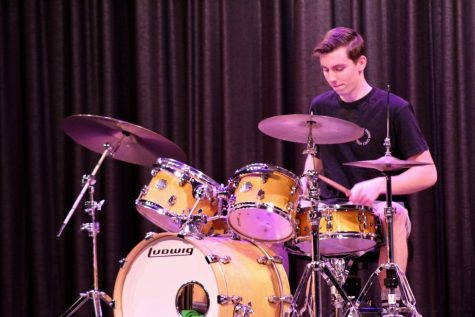 Wenchell pulled on his lifelong passion for drums.
"Most people didn't know I was going to drum," Wenchell said. "They thought it was just going to be kind of funny and that I wasn't going to be on a real drum set."
By intermission, the penny war results were counted with Bryce Fleck being the winner; he landed himself a spot in the top five alongside Wenchell, Rovelli, Genest and O'Connell.
The overall experience for all the contestants seemed to be a positive and supportive one.
"Just being backstage and getting to be a part of it was fun," said O'Connell.
"When we were backstage, it was cool how everyone was so supportive of each other," Wenchell added. "We were all hyping each other up and saying, 'Don't worry if you mess up or whatever; we're just here to have fun.'"
DECA considered the night a success and raised approximately $2,800 to help send eight contestants to Florida for the annual International Career Development Conference (ICDC).
Photos by Lynna Vo and Kiyah Reynolds
Leave a Comment