9 Easy Steps to Beef Wellington
This recipe is loosely based off of Gordon Ramsay's recipe, but I changed a few things to be easier to follow and less complex.
Ingredients:
2 egg yolks, beaten

1.5 or 2 lb. beef tenderloin filet (you can use a 6 or 8 oz. tenderloin if you want smaller/individual servings

½ cup finely chopped assorted mushrooms (white, shiitake, and cremini)

1 clove crushed and finely chopped garlic

½ cup finely chopped shallots

2 tbsp. English mustard

1 tbsp. butter

¼ tsp salt
Making the Mushroom Duxelles: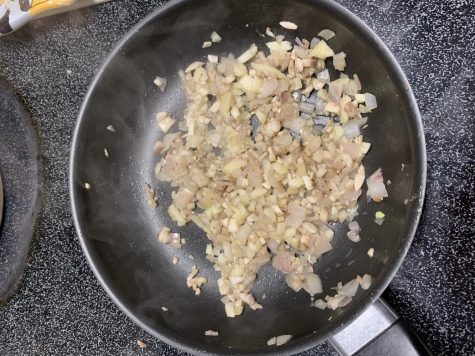 Take your chopped up mushrooms and carefully squeeze the liquid out using a paper towel. This step is crucial to making sure your puff pastry sticks to your Wellington.

Put your shallots and garlic into a pan with the butter, and stir until softened.

Add the mushrooms and salt, stirring until the mushrooms are soft.

Cook until the remaining mushroom liquid has evaporated and set aside to cool.
Making the Wellington:
Cook the tenderloin, searing on each edge but not cooking thoroughly; it will finish cooking in the oven.

Allow the tenderloin to cool for about five minutes, and coat the cooled tenderloin in mustard.

Lay down a piece of plastic wrap big enough to wrap the meat, and spread the duxelles on the wrap (This should only be about ¼" thick).

Tightly wrap the Saran Wrap around the tenderloin, and set in the fridge to form (about 25 minutes).

Sprinkle a light amount of flour on your counter, and roll out your pastry dough.

Take your tenderloin and unwrap carefully, as to not lose the duxelle coating. Place it into the dough.

Tightly wrap the dough around the tenderloin, and seal it. Be careful to not overlap the dough too much, as the Beef Wellington won't coo

k right if the dough is too thick.

Use a knife to put 2 or 3 small slits in the top of the dough to allow steam to escape. Wrap the dough in plastic, and place in the fridge until ready to cook.

When ready to cook, preheat oven to 375 degrees, and brush the pastry-wrapped filet with the egg yolk. Place the pastry-wrapped filet in the oven, and cook until the pastry is cooked but the tenderloin is not overdone. The tenderloin should be cooked to 120 to 125 degrees. This should take about 30 minutes.