Leprechaun Cookies
Ingredients:
2 ¼ cups of all-purpose white flour

1 tsp of baking soda

1 tsp of salt

1 cup of butter (one cup is equal to two sticks of butter)

¾ granulated sugar

¾ brown sugar

1 tsp vanilla extract
– If you would like to substitute rum extract to incorporate the alcohol flavor for the Irish holiday you may
2 large eggs (room temperature)

2 cups of semi sweet chocolate chips (or as many as you would like)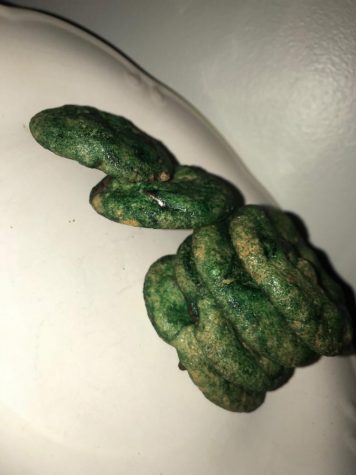 Preparation:
Preheat oven to 375 degrees, use convection bake to have an even cooking rate for the cookies

Use a 15 x 10 non stick pan

Obtain one large mixing bowl

Obtain an electric mixer
Making the Cookies:
Begin by mixing all the dry ingredients together.

After the dry ingredients are in the large mixing bowl begin to put in the 

wet ingredients.

If the butter is not already soft put the butter in the microwave for no more than 10 seconds–this will allow for the butter to be mixed easily into the batter.

After you have the butter, eggs, and vanilla extract in the batter add ten drops of green food coloring.

Mix the batter until it is a thick whipped dough.

If you would like the green color of the cookies to be more vibrant add more food coloring after your first mix, and then quickly mix again until the color is even.

Now you are ready to bake, make dough balls an inch in diameter and place them two inches apart on the tray until the tray is full.

Bake the cookies for 12 to 13 minutes or until the cookies are golden brown. If you wish to check the cookies take a twist tie and place it into the center of the cookie, if any excess dough is on the twist tie when it is taken out the cookies are not done.

Finally you can enjoy your festive cookies! Happy St. Patrick's day!