The Best Way to Make Bubble Tea at Home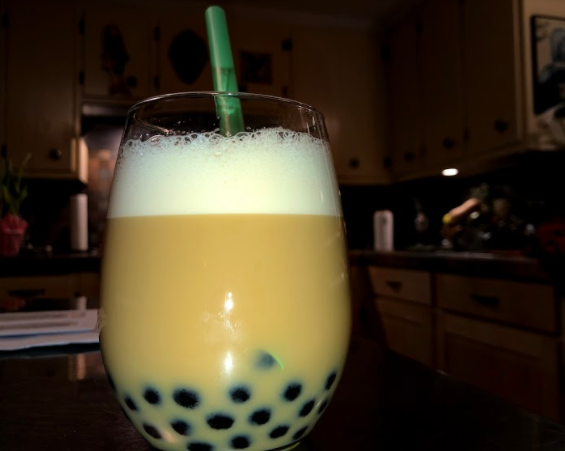 Ever since I was really little, I have loved bubble tea. I was introduced to it by my mom in New York City. The mixture of rich, sweet milk tea and the addition of tapioca pearls adds a delicious, fun texture. Throughout high school, I would constantly go to a local shop to get bubble tea; however, once I discovered I could order tapioca online, I began a new journey. I have done lots of research on making the best cup of bubble tea. 
INGREDIENTS/TOOLS 
Black tapioca pearls (½ cup)

Black tea 

Milk or half-and-half 

3 tbsp brown sugar

Cappuccino maker (or electric whisk) 
First start by filling up a pot halfway with water and put it on the stove with your tapioca. 

Let the tapioca boil until all of the bubbles are floating (This should take 10 mins, but it depends on the brand you use). Once the bubbles are floating, cover the pot and continue cooking for 5 minutes; then turn off the heat and let them sit for another 5. 

Then, boil hot water to make your black tea. Let the tea steep for at least 10 minutes. Pour the tea over ice to cool it (you could also leave it in the fridge overnight so the ice doesn't dilute the tea).

Photo by Sophie Molkenthin

Once the bubbles are finished cooking, strain them and put them in a container. 

Take the brown sugar and mix with about a half a tbsp of warm water. (This will make a sweet syrup as a sweetener for the tea.) Add the sweetener to the container of tapioca. 

Next take the cappuccino maker or electric mixer and whisk the milk or half and half till it has a thicker fluffy consistency. 

Finally, combine the fluffy milk, tea and tapioca pearls in a cup. Put the tapioca on the bottom of the cup; then add the milk and tea. Stir well, then enjoy!
Leave a Comment