12 CRHS Student Athletes Commit to Play Their Sports In College
Photos by Lynna Vo
On Friday, May 10, twelve student athletes, along with their families, were honored in the CRHS cafeteria for their commitment to play their respective sport in college.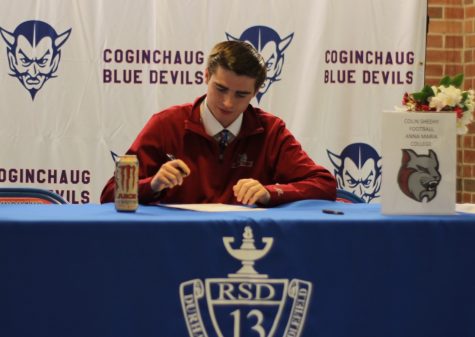 First to sign was Colin Sheehy for football. He committed to Anna Maria College in Paxton, Massachusetts with plans to major in sports management.

"I chose Anna Maria because they wanted me to play football, and I'm really looking forward to playing up there." said Sheehy.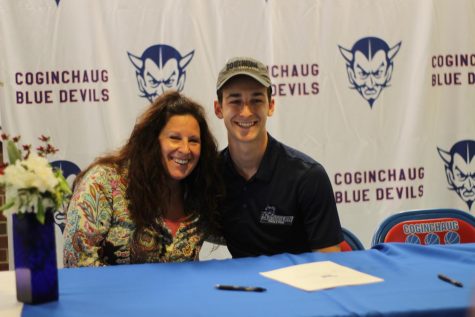 Hayden Rovelli was next, committing to Southern Connecticut State University in New Haven, Connecticut. He is majoring in film and communications, while continuing his career in track and field. Rovelli was the top pole vaulter in the state this past indoor track season.
"I was drawn to the community aspect of Southern," explained Rovelli. "Even before I commited or decided where I was going, different jumpers reached out to me and helped me with stuff. That's something I really want to be a part of. It should be a new chapter of training and a new chapter in my life."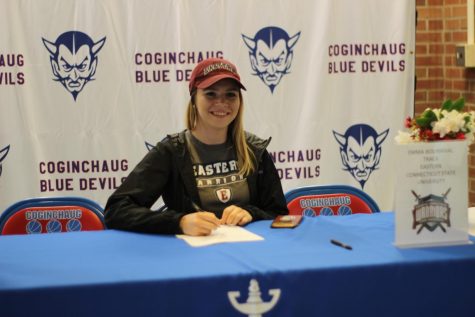 Off to Eastern Connecticut State University in Willimantic, Connecticut is Emma Bournival. Bournival is a dual-sport athlete, running both cross country and outdoor track. As well as her athletic duties, she is going to major in special education, as well as minor in psychology.

"At Eastern, the team is really, really nice," Bournival remarked. "They're all super supportive, and it's a tight knit team. I love the school; it's beautiful, and I just knew right away it was a fit for me. I am most excited to be able to start pushing myself to the next level of running and have people to encourage me to hit new PRs that I wasn't able to do in high school."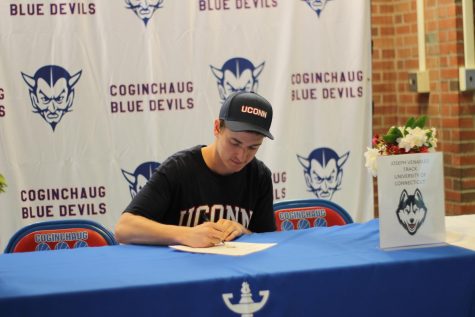 Track and field athlete Joseph Venables hopes to do big things at UConn in Storrs, Connecticut. While he is not fully sure of his major, he believes that he will do something in business.
"UConn was my choice because they have a really good track program," said Venables. "I'm really looking forward to being a part of the track team and the academics."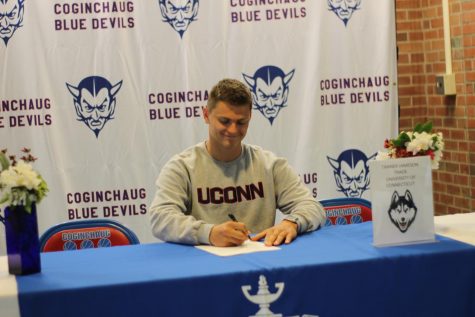 Joining Venables at UConn for track and field is Tanner Jameson. A former football player, turned javelin and shot put thrower, he plans to major in agriculture and continue his athletic career.
"The biggest thing I'm looking towards is studying hard and being an academic stallion," joked Jameson. "I chose UConn especially for my major and I really like it there."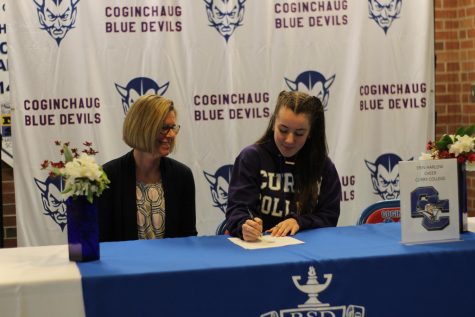 Erin Harlow found her perfect fit, committing to Curry College in Milton, Massachusetts. One of the co-captains of the cheerleading team this past fall and winter, she is excited to cheer at a collegiate level and begin her pre-nursing track.
"I chose Curry because of their nursing program; I wanted to be close to Boston, and it felt like home when I toured there," exclaimed Harlow. "I'm most looking forward to cheer and getting to go to Boston all the time!"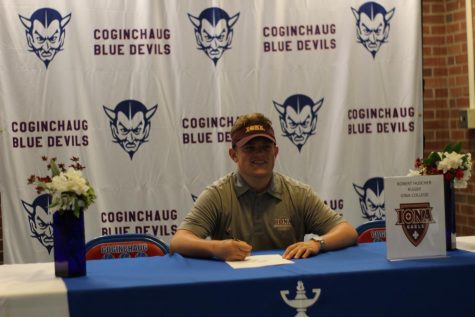 Heading to New Rochelle, New York for Iona College is Bobby Huscher. He will be playing Division 1 rugby for the Gaels and studying sports marketing.
"Iona has a pretty good business program; I really want to do business," said Huscher. "The location was important too: it's close to home but also it's close to New York, so that'll be fun. I'm most excited to even go to college and get out of Durham, but I'm also looking forward to playing rugby."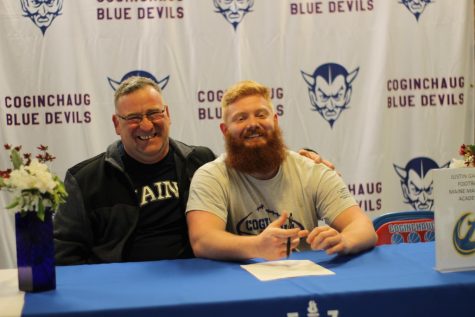 Another football player, Justin Gagner is shipping out to the Maine Maritime Academy in Castine, Maine. There, he plans on majoring in vessel operations and technology.
"I chose Maine Maritime Academy because it is a school that has a good reputation for the careers it gets you ready for," Gagner explained. "I'm looking forward to being on the water and getting an experience many can't say they have."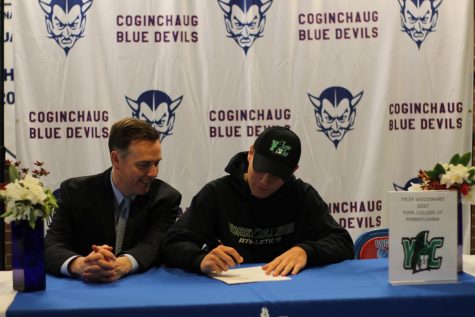 Tyler Woodward is bringing his golf talents to York College of Pennsylvania in York, Pennsylvania. Hoping to have a career in business, he plans to major in finance.
"I felt valued [at York]," said Woodward. "The golf program is on the rise with an amazing coach and talented athletes. They are a top Division III looking to compete. Their business program is amazing and has many appealing things about it. I am looking towards working hard and taking advantage of any opportunity that comes, both educationally and athletically."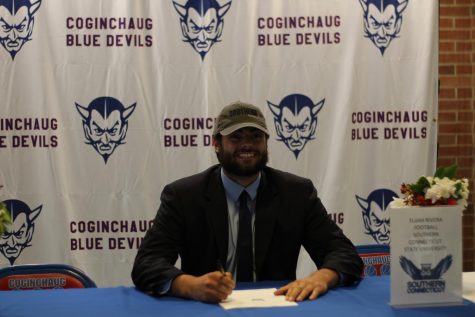 Joining Rovelli at Southern Connecticut State University is Elijah Rivera. Majoring in psychology and criminology, he will also be continuing his football career with the Owls.
"I chose Southern because financially in the long run for me, it made the most sense," expressed Rivera. "Southern is keeping me out of debt that I would have had at Wilkes University. I am most looking forward to playing some college football, and having a full on college experience staying on campus next year. I can't wait!"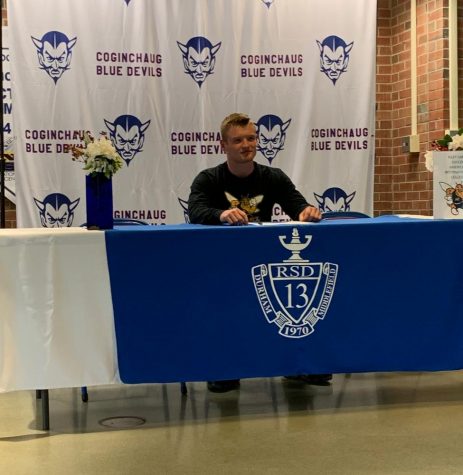 The only soccer player, Riley Carey, committed to American International College in Springfield, Massachusetts. Playing soccer at the college level has always been a dream of his, and now Carey can live that dream, as well as spend his time off the field majoring in criminal justice.
"I love the campus; it's not too far from home," Carey said. "I also like that you're in the middle of Springfield, but on the campus, you don't feel like you are. I'm cool with a lot of the players, and I'm just really excited about playing soccer and to being able to play at that level."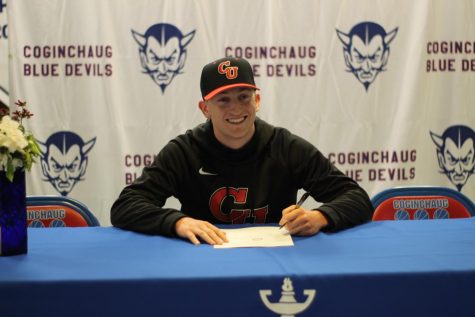 Last to sign was Connor Rulnick, who is heading to Clark University in Worcester, Massachusetts. You can "catch" him on the baseball field and excelling in the classroom, majoring in business.
"In terms of baseball, [the team] plays in a competitive way," explained Rulnick. "Academically, it's a highly respected institution. I'm looking forward to fall ball with my teammates and to win the conference. We have a lot of work to do."
These athletes are sure to make impacts at their respective colleges and I look forward to seeing how far they go.