Life of an Incoming College Athlete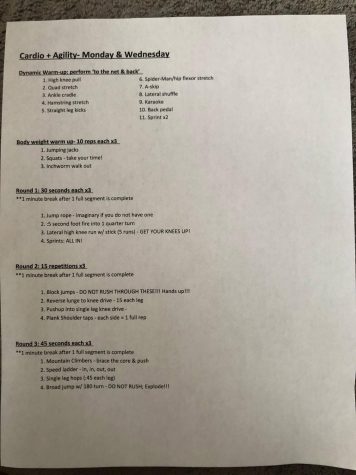 During this hard and awkward time, I think it is important to keep yourself occupied, and it is a time to improve yourself. I will be playing NCAA Division III volleyball next year, and I am starting to get to know the team and coaches and prepare for this upcoming season. 
One of my college coaches prepared workouts for the team to do and plans to update them every couple of the weeks to make them progressively harder. We have one series of workouts for Monday/Wednesday and one for Tuesday/Friday that we all do. They are challenging workouts and make me sweat a ton. I typically will also do something light on the other days like doing resistance band exercises, going for a bike ride, going for a walk, playing outside with my sister, or doing a workout from Youtube.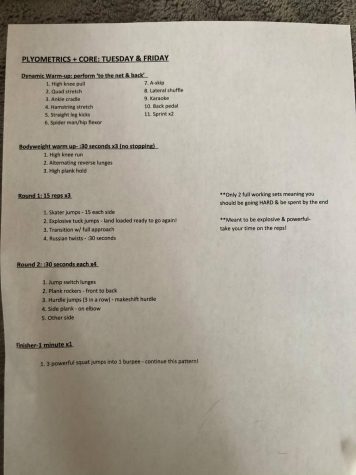 The team is also asked to keep a food log and keep track of our water intake. We are also keeping track of how we feel that day and mindful of how we feel after we eat, workout, and how our day as a whole went. This is important because it makes sure we are getting enough food, and the right foods, as well as being mindful of how those foods make us feel. I'm finding this to be very helpful because I'm able to see what and how much I'm eating. Also, keeping track of water intake is very eye-opening. If you take your weight and cut it in half, that's how much water in ounces you should be drinking each day. I do not drink nearly enough water, so keeping track allows me to see how little water I'm drinking and that I need to try to drink more to keep me hydrated. 
Throughout this time in quarantine, we have used Zoom (online video chat) to do team bonding, talk about next season, and see how we are doing. We all have gotten to know one another more and even made slideshow presentations on someone we didn't know previously and got to know all about them. I had an upperclassman, and it was so cool getting to know her and what she likes and a little bit of her backstory and learning about the school and volleyball program. We all shared our slide that we had made about the other person and got to know everyone. 
I also have online school which keeps me on a schedule even though it is pretty flexible. 
I know not everyone is working right now, but I do work a couple days throughout the week. With not going back to school, this routine will probably continue as it is right now. I look forward to seeing the progress of working out and being conscious of my intake, and I can't wait to play the sport I love the most with a new team and school this fall.
Leave a Comment