3D-Printed Submarine in the Making
Each year seniors, as well as juniors at Coginchaug, are given the opportunity to participate in the CUSP program (Coginchaug Senior Project). Students are to choose a topic that interests them and create a project out of it. It is required that all students must choose a mentor to help guide them through their process.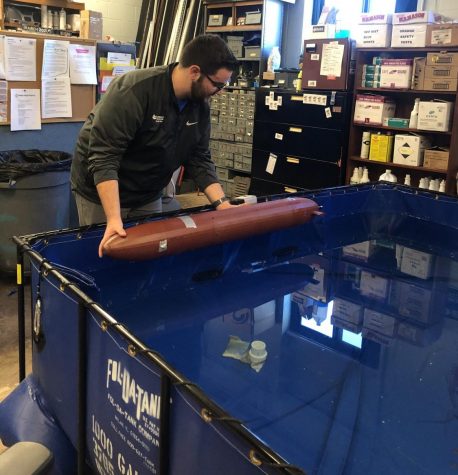 Senior Spencer Wondolowski is making his very own 3D-printed submarine. Creating this brought together the perfect combination of his love for computer science and marine engineering: "Since I was a kid, I was always so fascinated by the idea of a boat sailing underwater."
The school provided some of the materials needed, but Wondolowski paid for the majority of all costs as well as providing his own 3D-printer. He explains that the process started off extremely slow: "Parts took weeks to arrive in the mail, and 3D-printing the five sections of the sub took nine days in total."
With the help of Mrs. Francis, Wondolowski was able to use the ocean exploration swimming pool to test his submarine without any electronics in it. The first time in water, the sub experienced a leak. "I was disappointed, Wondolowski said, but still very optimistic". The leak in the sub was a good thing. He explained, "It allowed me to see what parts needed more attention". 
Once the electronics were in the sub and everything was ready to go, Wondolowski was given the opportunity by a friend of Mrs. Francis, to use the swimming pool at Avery Point to drive the sub in. Unfortunately, this was unable to happen due to COVID-19.
"It is disappointing, but my neighbor is allowing me to use his pool to keep the process moving," he says. 
Due to school closure, everything has stopped for the students. No more meetings or check-ins on the progress of their projects, but this will not stop Wondolowski from finishing.

"This is something I love, and I am determined to finish," he said. "I will not allow anything to get in my way of that."