Ocean Bowl Wins Regionals, Advances to Nationals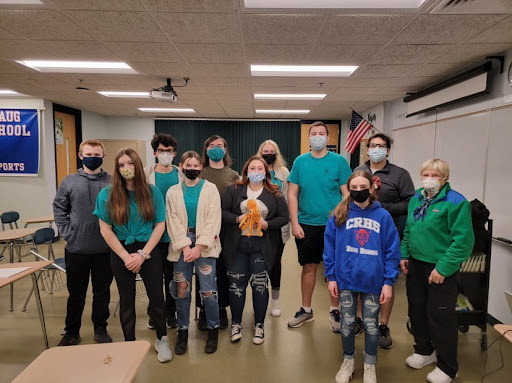 On February 5th, the Coginchaug Cephalopods Ocean Bowl team competed against a multitude of teams from Rhode Island and Connecticut in the National Ocean Sciences Quahog Bowl. The team had been split into two separate teams for the purpose of competition. Team A was led by senior team captain Alicia Lowry , seniors Tyler Fusco and Luke Charest, alongside junior Dalton Bates. Team B was led by sophomore captain  Natalie Hayward sophomores Rachel Hayward and  Logan Watts, with freshman Claire Roraback rounding out the teams.   
This year, Team A was particularly determined to win, as  this was the last competition for the team's three seniors before they graduate and attend college. Lowry and Charest have been on the team since freshman year, making this final competition a bit bittersweet.  However, Team A was not dismayed by this: It became the fuel they needed to fight for the title of regional champions.  
The team was determined not to lose to E.O Smith High School of Storrs, who defeated them in the regional championships last year. The team made their way up to the finals through a round robin tournament, answering questions on topics such as marine biology to plate tectonics to the historical timeline, where their only defeat was against E.O. Smith. Team A defeated them 47-20 in the final, securing Coginchaug's spot in the national championship for the first time since 2015.  Their win was all the more impressive due to the fact that both teams consisted of four members, whilst E.O Smith and the majority of the other teams had five. They will be representing Connecticut in the National Ocean Bowl finals May 15th and 16th virtually.  Team B, despite having less experience, fought valiantly and ended in 5th place.
"It's really nice to see four years of hard work finally come into fruition and win on my last chance," said Lowry.
Leave a Comment