Veni Vidi Vici: Coginchaug at State Latin Day
It was an interesting sight to see during first period on April 28th: students walking down the hall, wearing tunics, peploses, and other Roman-inspired clothing. These students had not exited a time machine; they were headed to Connecticut State Latin and Greek Day, an immersive event where students from all over the state can participate in activities and presentations inspired by the classics. 
Coginchaug sent a delegation of its entire Latin Department, with students from Latin II to V using their knowledge and skills at the event. The students arrived at Holiday Hill that Thursday morning and set off to represent their school amongst the over 30 other schools present. Ms. Katy Reddick, one of the Latin teachers at Coginchaug and the advisor for the Latin Honor Society, described State Latin Day as "a great opportunity to interact with Latin students across the state" and "an opportunity to have fun with the language through crafts, lectures, and activities…and see how different teachers, different schools, different students 'do' Latin."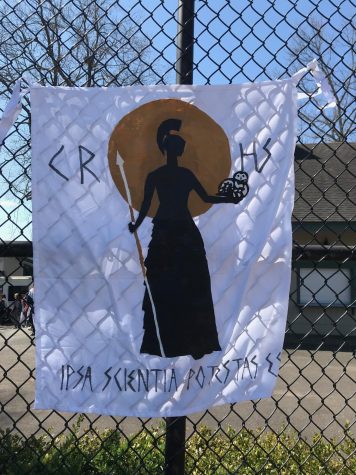 Students could compete in academic competitions, which were tests on various subjects like mythology, ancient geography, Greek, Latin grammar, and more. Junior Julia Talbert-Slagle placed second in the Mottos and Phrases Statewide Exam. Another option was the certamen tournament of three teams buzzing in to answer questions on the classics. There were also numerous sporting events. 
Freshman Annika Liss entered the costume contest, where she placed second with her portrayal of Persephone, the Greek goddess of spring and queen of the underworld. She created her costume by using an orange sheet (the color of brides in ancient Rome) to make a peplos decorated with fake flowers. She also created a crown out of duct tape and used a basket of fake leaves, flowers, and a felt pomegranate she made as a prop, which all held significance to the mythology surrounding the goddess. When asked about her win, she said that it was very motivating to know she could create amazing things with the right time and effort.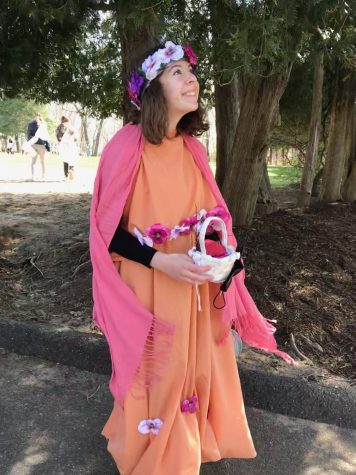 When not competing, various presentations were being held. A classics professor at Wesleyan gave an interactive lesson on curse tablets, lecturing students on their historical uses and allowing them to write their own in Latin. Another presentation was on astronomy and the influence of the ancient world on the modern field. 
Students walked away from the day with a positive attitude towards the experience. Senior Ava Dell'Orfano, one of the co-counsls of the Latin Honor Society, spoke to its unique nature, saying it "was unlike anything I've ever experienced before." The Latin department at Coginchaug is small, and this event gave students a new perspective on their learning while also allowing them to interact with other students of their language. Ms. Reddick found that her students were "independent learners and explorers and amidst all the activity it was the happiest and most relaxed I've seen students all year." There is support to attend the event again in the future. 
View Comments (1)