Coginchaug Volleyball Remains Perfect
Following a very successful 2017 volleyball season, the Coginchaug girls volleyball team, led by senior captains Bailey Zettergren and Raina Kurek, have started the season in historical fashion, winning seven straight games, and only dropping two sets overall.
Following a dominant 3-0 win against Old Lyme, the team dropped a single set to East Hampton in a 3-1 win and followed with two 3-0 sweeps against Valley and Terryville.  
On Monday, September 17th, the team traveled to Haddam-Killingworth to take on one of the top teams in the Shoreline Conference and dropped only their second set of the season in a convincing 3-1 win over the Cougars.  Although the Lady Devils are off to an amazing season, it certainly did not come without hard work and determination, according to the captains..
Kurek claimed, "I was definitely expecting a big change from last year because we lost a good amount of girls due to them graduating, but I knew that everyone would step up for the best possible season."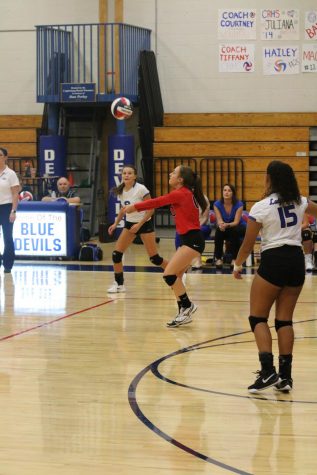 Clearly the team has certainly stepped up, as shown by their record, and has had multiple newcomers show tremendous growth from last season and contribute to the team's success.  
"Sydney Fowler has really stepped up as an outside hitter this year," captain Bailey Zettergren said. "She played JV last year and then club in the off season and has come back in really good shape.  I would definitely say Sydney has already saved us with her hits at the net. We needed someone to step up a lot this year after losing Gabby [Kozik who transferred to the Loomis Chaffee School]."
Kurek also added, "Sophomore Lena Kozik has also really stepped up a lot and has improved in every aspect of her game."  
On Thursday the 20th, the Lady Devils took on Hale Ray and hoped to keep their undefeated streak and #1 state rank alive.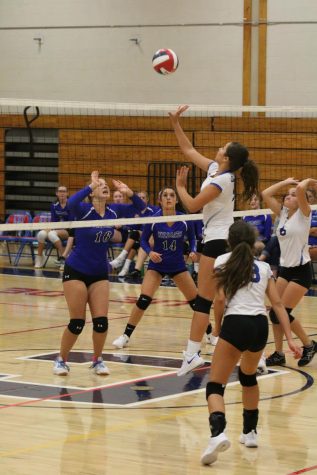 According to Zettergren, "Last year was a really competitive match-up between players and abilities on both sides of the court, and we are hoping to come into the game more prepared than they are."  
Following the game Thursday, the Lady Devil's remained undefeated in a 3-0 sweep of Hale Ray, and continued there streak the following day with another 3-0 sweep over Terryville.
Coginchaug's future challenging games will be against East Hampton and Cromwell; the Lady Devils take on East Hampton this Tuesday, Sept. 25 and Cromwell on Thursday, Sept. 27.  
In order to stay updated with the amazing run with the girls volleyball team, you can view their schedule here.
Leave a Comment