Volleyball Starts Season 5-0 with New Coach
Volleyball senior captains Raina Kurek and Bailey Zettergren are excited about the start of their season. Going into it with a new head coach and without their setter from last year, the team knew adjustments needed to be made. After working with the coaches all summer on strength and conditioning, the girls had only positive things to say about the coaches and the upcoming season.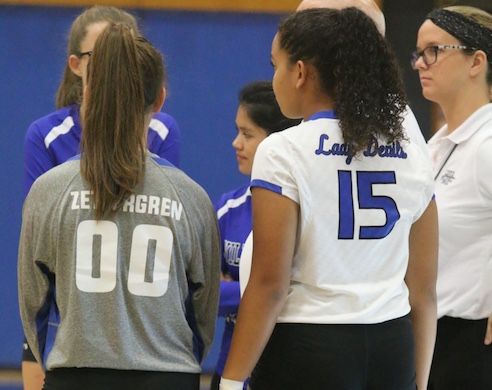 "I feel great about the start of the season…," Kurek said. "We have really been in sync with each other."
There has also been a lot of turnover in recent years with coaching. After meeting and conditioning with Head Coach Courtney Manciero all summer, the team is very pleased with the plans she already has in place.
Junior Sydney Fowler is excited about Manciero's commitment to the team and said, "The summer conditioning program she has started allowed us to get into the gym and work together before the season even started which created a bond between us." As evidenced by the first five games, the team was well prepared coming into the season.
Coming off a 5-0 start, the team looks to stay undefeated in the coming weeks. Assistant Coach Tiffany Hesser said, "A great start created pressure to keep going. In addition to winning, it's an added pressure of winning and staying on top."
The girls have already faced Haddam-Killingworth and Valley Regional, two very tough teams from last year, and won both games. They are hoping to continue to surprise teams going forward.
Coming off of last season, losing in the Class S State Semifinals, the girls have very high expectations for this season. Manciero said, "I am very impressed with how we have been performing thus far. We are able to win without having played to our fullest potential yet. As coaches, that is very exciting because we can envision how strong the team can become once we become more disciplined and learn how to utilize our strengths better."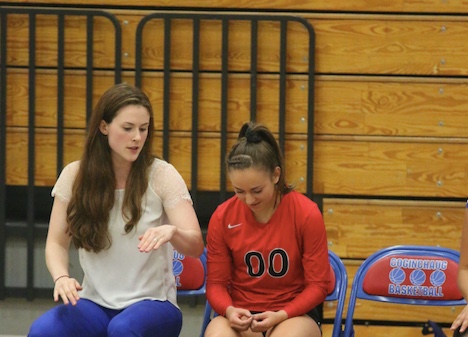 Come tournament time, the team is hoping to be very successful. Coach Manciero said, "If we can continue to grow together and to work each day to become stronger where we need to be, then we will be very difficult to beat in the tournament."
The volleyball team already has and would like to continue to see support from friends, family members and teachers coming to the games. A big student section motivates the girls and also adds pressure to win. Kurek and Zettergren are excited to go into the rest of the season and hope to stay undefeated.
Photos by Jen Zettergren
Leave a Comment