Fair Grows
Even though the Durham Fair generally remains the same each year with all of its traditional events and booths, you may be surprised by the difference in each age group's views and interests regarding the fair. You may not remember the first time you went to the fair, but you might have gotten carried around on your father's shoulders or sat in a stroller and saw the bunny exhibit which was all it took to make you a happy little kid.
Eva, with her 4-year-old daughter Clarissa, from Old Lyme, Connecticut says, "I have no problem driving the 35 minutes to expose Clarissa to the animals and crafts here at the fair."
"I like how mommy lets me eat pink cotton candy when we come here," Clarissa said as she gripped onto her mother's leg. Most young children, such as Clarissa, are introduced to the Durham Fair on a fresh, autumn Sunday morning for a few hours when the rowdy Saturday night crowd is still sleeping off their eventful night.
As children enter elementary school, their perspective on the fair has already undergone a change. When the teacher asks who has ever been to the fair, everyone jumps in eagerness to raise his or her hand, and children look around the room seeing everyone else's hands raised the same way.
By first grade, boys and girls are fully aware that the Durham Fair is something all of their friends attend, and they brag to out-of-town kids about how they go the one day extra when the other kids have to be in school. Nine-year-old Braidon from Middletown says she enjoys rides and the fried pickles at the fair. This was her family's second year attending.  In a child's perspective, the fair is meant solely for his or her enjoyment of going on rides and munching on favorite foods exclusively found at this event.
Usually in 7th grade, as one of the first real steps of having freedom, parents let their children walk alone with their friends all weekend at the fair. Once teens enter high school, they're stressed about their outfits or who they're going to hang out with on Saturday night instead of worrying about the homework that teachers assigned them over the fair weekend.
"The Durham Fair makes the transition of going back to school easier because you know it's the month of the fair," said 16-year-old Chloe Manguilli from Durham.
Many high school students have commitments at the fair such as volunteering for the Benchwarmers or performing on the Center Stage as a part of Show Choir.
Sixteen-year-old member of several Coginchaug performance troupes Abbey Coogan from Durham said, "The week before the Durham Fair is one of the craziest rehearsal-wise. It really boils down to everyone's commitment to the group."
By senior year, most students drive friends and themselves to the fair instead of getting dropped off by their parents. Many teenagers can only make it to the fair a few times because of their busy schedules and jobs.
"Working gives me a restriction on my time spent at the Durham Fair, but it definitely doesn't restrict the fun I continue to have there," 17-year-old Coginchaug senior Jeremy Cannon said.
When graduates go off to college, there are only two things that bring them back home: holidays and the Durham Fair.
Twenty-year-old Sophia Robinson, a Southern CT State University student and Durham resident, said, "I really look forward to seeing friends that I never get to see anymore. The fair is a tradition to me, and it's a shame that I don't have time to go every day because of work."
There are so many fair goers who are in their mid-twenties, such as the young teachers at Coginchaug. The fair becomes such a tradition that many younger adults pause their new and active lives just to make it to the grounds of the fair.
The timelessness of the Durham Fair can also be seen in many older residents and visitors who cruise the fairgrounds, continuing to enjoy all the fair has to offer.
The Durham Fair isn't just something to do on a late September weekend; it goes through all of the changes and milestones of growing up on a personal level with each individual who attends it, especially Durham residents.
What is it that keeps you marking your footprints in the dusty, 98-year-old midway of Connecticut's largest agricultural fair?
About the Writer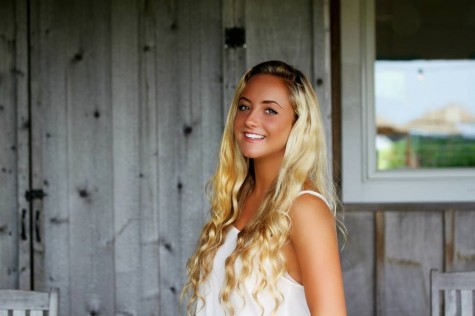 Ava Altschuler, Editor
Senior Ava Altschuler from Durham is in her third year with Devil's Advocate. She participates in cheerleading, outdoor track, and French Honor Society....