Coginchaug Welcomes New Athletic Trainer
Coginchaug's athletic trainer of the last two years, Nick Kaltenbronn, has left his position in a move to Boston, MA. With Kaltenbronn's position vacant, Kyle Cifarelli has taken over as athletic trainer. The two worked closely together at Select Physical Therapy. And so the transition between Nick and Kyle was seamless. Kyle shadowed Nick for several days. During that time, he learned about the inner workings of the school and met many of Nick's patients. Kyle could not be more excited to begin working, saying, "we're gonna have a lot of fun and we're gonna take care of a lot of patients."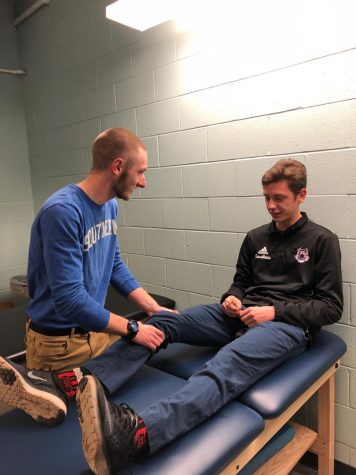 In the spring of 2018, Cifarelli graduated from Southern Connecticut State University. Following graduation, he worked as the head athletic trainer at Warren Harding High School in Bridgeport.
Kyle is now at Coginchaug and already feels at home, expressing, "the staff are great; the coaches are fantastic; the facilities are really nice." Cifarelli articulated that he felt limited at Harding. Often times, he did not have access to needed supplies. At Coginchaug he is able to, "help people the way I want to."
Although many student-athletes will only see Kyle after school in a physical therapy and training capacity, his average day consists of much more than that. Waking up at 5 a.m., Kyle spends about two to three hours climbing or training. After that, his work day will begin. He spends time researching different medical cases he is working on. He also spends time working  at Select Physical Therapy on Main Street in Durham. Another aspect of his work is sitting in on surgeries with various doctors in the area. Regardless of how busy Cifarelli may be, he always wants students to know that he is there to help.
Looking into the future, Kyle hopes to help as many patients as possible and effectively utilize all of the tools he has at his disposal. Something new for the athletic department that Cifarelli will be starting this year is performance testing. Testing will start with the track team, but Cifarelli hopes to expand to other programs eventually. Through what is called isometric testing, Cifarelli will be able to gather data on athletes. This will allow him to understand the bodies of athletes better and ultimately provide better treatment as a result.
Although it may be disappointing to see Nick leave, Kyle is ready to help people. It is not often that you see someone as enthusiastic about their job as Kyle is. Coginchaug has welcomed him to the district, and he is ready to get to work.