Boys Indoor Track Wins Shoreline Championships
On February 5th, 2022, the Coginchaug Blue Devils attended the 2022 Indoor Track Shoreline Conference against the other Shoreline schools. The meet was very close with Coginchaug winning the meet with a score of 115. Haddam-Killingworth was the runner-up with a score of 113, and Old Saybrook came in 3rd with a score of 77. The results were in dispute for some time before being released, but overall the Coginchaug boys were very confident in their abilities. Alexander Meisenkothen, 11th grade, said about the meet that "I feel like it went really great, and I feel like we're either gonna have first locked in against HK or we're gonna be a close second. Either way I'm gonna be happy." Meisenkothen also added: "I feel like we did good, we all over performed, we all did better than we expected to, we earned points in events we didn't even think we were gonna earn points in; we haven't scored in distance in I don't even know how long and we were able to score in distance today, which is huge, so I feel we all did really good." 
While the meet did go smoothly, there was a slight hiccup in the very beginning regarding shoe spikes. Ultimately, the issue was resolved before the first event, allowing the meet to continue without a hitch. Going into the meet, Coginchaug's Track and Field coach, Michael Ford, was very confident in the abilities of the track athletes, and while the track events were very favorable to Coginchaug, he was pleasantly surprised at how well they performed in the field events as well: "Coming in, I thought track would be our high point, 'cause we had really good showings in both the 600 and the 300, all the relays we were looking really good in, but then when it came down to it, a couple individuals in jumping is really what gave us some points that we didn't see coming. In long jump, high jump, and pole vault we got a lot of points that, on paper, we weren't supposed to get that catapulted us to a win". 
HK was predicted to win, with Coginchaug behind by eight points and HK winning the meet, but Coginchaug was able to take the lead by a small two points. Many on the Coginchaug team believe that victory might not have been possible without the help of multiple latecomers. Dalton Bates was able to score vital points in shot put, and Hayden Gonzales was able to score major points in the 1600. Coginchaug also had luck in the relays which was able to propel CRHS Track and Field to the top of the leaderboard, giving Coginchaug the close victory it had in the Shoreline Conference. According to Coach Ford, "Those boys saved the day. I had Dalton Bates come in late [due to another conflict]: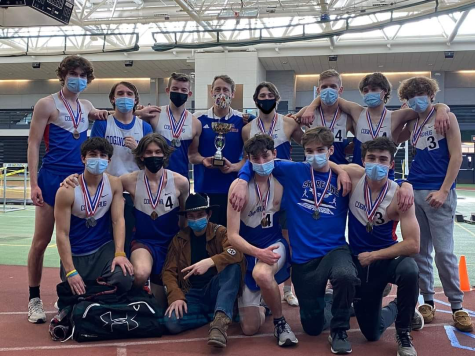 he came in to compete and then left immediately after he was done and he ended up getting three valuable points. Hayden Gonzales ran the mile, got fourth place and got us, again, a good chunk of points that we wouldn't have won the meet without; both those boys are essential."
The February 5th Shoreline Conference was the first Shoreline victory for the Coginchaug Boys Indoor Track Team in over a decade, which the boys celebrated with cheers, a victory lap around the track, and a banquet at Athenian Diner, all well deserved for their hard work this season.
Leave a Comment