Rowdy Reindeer Recipe
Rowdy Reindeer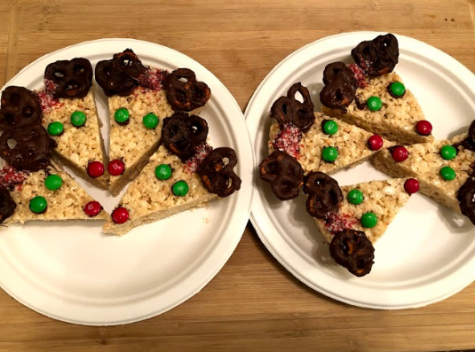 Rowdy Reindeer are a delicious Christmas dessert. With a combination of salty pretzels and sweet melted marshmallows, you will be addicted. It is the perfect treat to bring to any Christmas or holiday party!
Ingredients: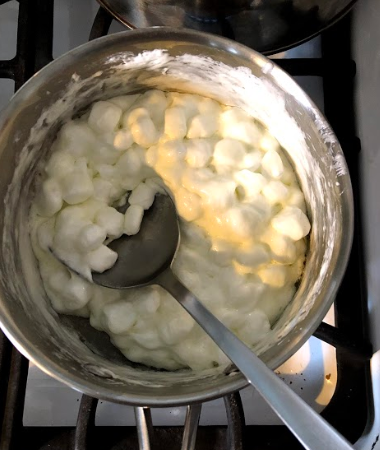 ½ stick butter

10 ounces mini marshmallows

6 cups rice Krispie cereal

1 cup of chocolate chips

16 green m&ms

8 red m&ms

Christmas sprinkles

16 pretzels
Instructions: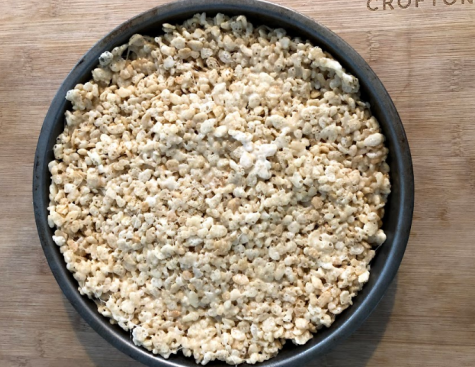 In a pot, completely melt the butter and marshmallows together on low heat. Then add in the rice Krispies and stir together.

Grease a cake pan and put the mixture into it on an evenly, pat down if needed.

Put the chocolate chips into a bowl and microwave until completely melted. Then dip each of the pretzels into the chocolate and place them on a cookie sheet. Put both the rice Krispies and chocolate covered pretzels into the fridge to cool for about twenty minutes. 
Cut the rice Krispies into 8 even pieces. Drizzle melted chocolate in the two corners of each rice Krispie piece and place the chocolate covered pretzels over them. Then drizzles chocolate between the ears and put sprinkles there. Drizzle chocolate in the places that the two eyes and nose would go. Place two green m&ms as the eyes and one red m&m as the nose. Place them in the fridge to cool overnight or for twenty minutes.
Recipe used for reference:  https://www.fivehearthome.com/reindeer-rice-krispie-treats/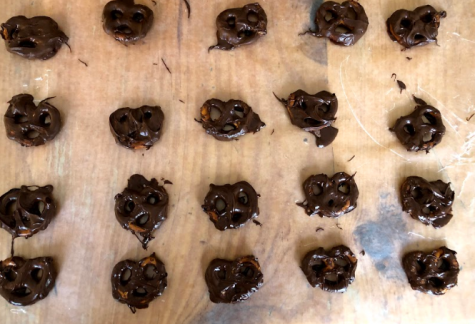 Leave a Comment