Honoring the Tomb of the Unknown Soldier
While in Washington, D.C. for Coginchaug's annual senior trip, four students were given the opportunity to lay a wreath in front of the Tomb of the Unknown Soldier. 
In order to do this, each student who wanted to participate had to write a paragraph on why they were  interested, and they were chosen by a teacher who thought based on their parag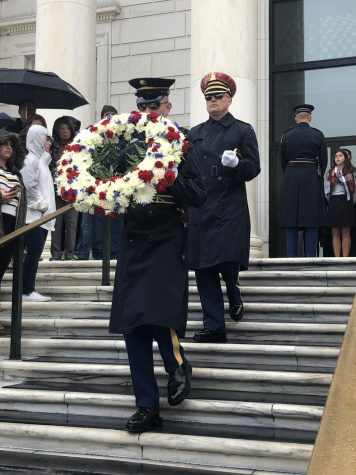 raph, truly understood the scope of what it means to present the wreath.
Spencer Wondolowski, a senior who was chosen said, "I have always known the importance of the monument and what it serves to represent, which is to never forget the ultimate sacrifice these soldiers have given to our country." 
Not only did he want to lay the wreath to honor fallen soldiers but also because of his great grandfather and grandfather who served in the military, and he felt he "wanted to do this for them." 
Right before the changing of the wreath ceremony, we were lucky enough to experience the changing of the guards. Every hour, a soldier takes over the place of the soldier guarding the Tomb of the Unknown Soldier giving  him rest. 
Senior Molly Yale "felt such an honor to take part in such a solemn ceremony in which many of [her] family members served". She also felt "saddened for the families that have lost their loved ones, and grateful for the life these soldiers give us". 
Senior Cameron Ledford was one of the two students to hand over the wreath to the guard. Cam wanted this honor because "it meant honoring the veterans and those who gave the ultimate sacrifice". Cam participated in this ceremony to pay his respects to all those who fought and those who continue to fight. 
After the wreath was placed in front of the tomb, the four students walked back up the stairs where they talked to another guard. At this point, students were feeling a lot of different emotions. Senior Carolyn Cumello, the second student who handed the wreath to the guard, said "it was an amazing experience", and "it was great to be able to honor the veterans of this country."