I've Got 99 Problems But Food Isn't One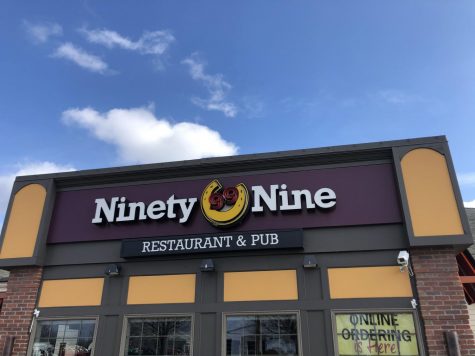 Recently, I went to the Ninety-Nine restaurant in Wallingford, Connecticut. I brought my beautiful mom with me before our weekend grocery shopping, and our visit was lovely. It was such a quiet and peaceful environment with good food and great service.  
  We were greeted by a cheerful hostess after going through a large beautiful waiting room. This location was very spacious, and there were not many people there for a mid-day lunch.The restaurant has a bar located in the center of the restaurant with booth seats surrounding and a side room as well with seating. We were taken into the side room which had lots of seating. The whole restaurant had a very rustic and old time vibe with all of the brick and dark paint on the walls. The area we sat in had pictures of historic buildings on the walls. There was a lot of natural light coming in as well as cute little lights hanging above the table that looked like a small black bucket upside down. The seats were comfortable, and there was plenty of room to sit. 
  We were given menus and read the specials for that day as well as the classic lobster bowl special they offer around Superbowl time every year. You could get soup or salad, the loaded lobster mac and cheese or the lobster-topped coastal combo, and for dessert, you could decide between a peanut butter or mocha bite treat, all for $19.99. After we were seated and our waitress read the specials, she came back with some delicious, buttery and perfectly salted popcorn. The popcorn was very close to the kind you get at the movie theaters, which is personally my favorite. For drinks, I ordered a strawberry lemonade, and my mom got a peach tea; they were both very refreshing and flavorful. 
  For lunch, I ordered a sirloin cooked medium-well, and for sides I got mashed potatoes and broccoli. My mom got pretty much the same thing, just got steak tips instead of a sirloin. My steak was cooked perfectly and was simple and juicy. The steak wasn't smothered in sauces; it was just plain with a light dry rub of salt and pepper. The mashed potatoes were thick and delicious. I love mashed potatoes and potatoes in general and was very pleased with how they tasted. My mom and I both agreed that the broccoli was a little underdone, but my mom didn't mind it. I love broccoli and was honestly kind of disappointed with it, compared to the other steamed broccoli I have had before. My mom and I loved the steak, and you could tell it wasn't fake from the grill lines. We were both surprised at how flavorful it was and how yummy everything that we got was.
  If you know me, you know my signature meal when I go out is a petite sirloin cooked medium-well, with mashed potatoes and steamed broccoli on the side, and so I have high standards whenever I go out to a new place where I've never ordered it before. I was pleasantly surprised with how good the food was and how kind and attentive or waitress Kelsey was. She was always coming over to check on us, seeing if we needed anything, and of course was there to ask us if our food was good when we had a mouthful. 
  The meals together came out to $31.73, which my mom and I thought was pretty reasonable considering we both got steak meals and fancier drinks than your typical water or soda. On our way out, we noticed that they had a cute Valentine's Day raffle where you could buy a ticket for $1 each, 7 tickets for $15, or 15 tickets for $10. The raffle included wine, wine glasses, chocolates, movie passes to Holiday Cinemas in Wallingford, and a $50 gift card to Ninety Nine. The raffle was a cute addition to create a unique experience, and I thought it was very sweet of them to offer something like this. The atmosphere, staff, and food, was far past expectation, I would definitely stop for lunch or dinner again.
Leave a Comment