Healthy Can Be Delicious
The Nutrition Spot located in Middletown, CT is a facility that provides delicious smoothies that can serve as a meal replacement or recovery shake or to help curb your sweet cravings as a healthier option. With all the various flavors and add-ins, The Nutrition Spot serves all taste buds and dietary needs. 
  The employees, along with the atmosphere, provide a welcoming and informative environment. With their knowledge, they were able to provide a shake that was customized to our liking.
  "Our goal is not only to serve smoothies and energy drinks but provide a space where you can find happiness and positivity," owner Beth Gyngell said. "We want to fill your literal cup with health but also your personal cup with joy." 
  The employees willingly answered all our questions about the smoothies, what certain ones include, and pointed us in the right direction of what drink to choose based off of what we liked. The protein shakes come in 16 ounces for $8 and 18 ounces for $12. 
  McKayla ordered the strawberry cheesecake protein shake that was absolutely delicious. The drink included graham cracker crumbs, strawberries, a flavorful white blend that tastes exactly like cheesecake, and a strawberry drizzle to top it off. 
  Gabby ordered the vanilla and caramel protein shake. The shake was just amazing. This drink included a vanilla protein base with a mix of caramel as well as a chocolate drizzle on top. 
  The sizes are perfect, and they give you that satisfaction that will fill your craving. Their main ingredient in all their smoothies is Herbalife Nutrition products. 
  Gyngell said, "Since 1980, [the franchise has] been on a mission to improve natural habits around the world with great-tasting, science-backed nutrition products that help people get the right balance of healthy nutrition." 
  Since The Nutrition Spot has only been up and running since September, they haven't been there long enough to obtain a serious reputation as a business; however, since we have been a few times, we both can confirm that we have not had one bad experience yet. Every drink that is prepared is served with amazing flavors, fruits, and extras. 
  We highly recommend The Nutrition Spot for people who are active, looking to better their diets, and satisfy their sweet cravings without the cookies and cake.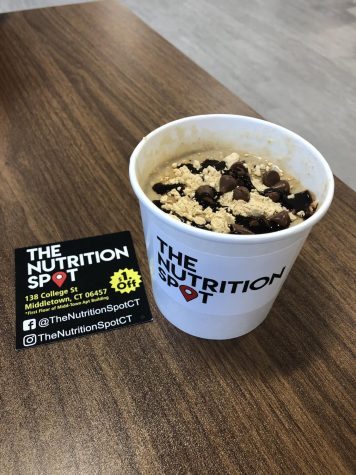 Leave a Comment