CRHS Unified Students Lobby for Federal Funding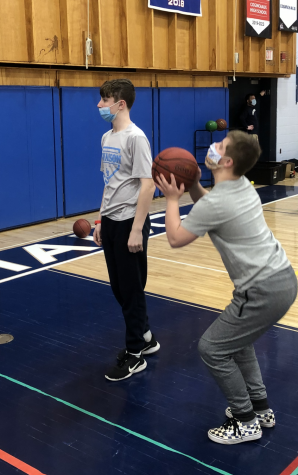 This past week, February 10, 2021, Coginchaug Regional High school Students spoke at a virtual zoom meeting with Senator Chris Murphy and his staff, Representative Rosa Delaura's staff, the founder of Unified Sports Beau Doherty and the chairman of the Special Olympics Tim Shriver to discuss the budget for Coginchaug Unified Sports going forward.
These students were Matt Stopka and Zach Ryer, two committed members of Coginchaug's Unified program. Stopka told us more about the meetings, explaining that the boys main goal was to ask these people to budget the Regional School District 13 Unified program. It is no small ask, as they asked for $23.6 million from the Centers for Disease Control and Prevention for Inclusive Health programing, and $34.8 millon from the DEP for Unified Champion Schools Programming around the United States.
Although that was the main objective of the meeting, the boys also wanted to convey the message, "Unified is Sports more than just sports" said Stopka, "I think it's a great way to bring people of all different physical abilities together to play sports and achieve great team and personal goals." Stopka also said he thinks Unified Sports has a strong community feeling that helps put difference aside. In a normal year, the boys would have traveled to Washington D.C. to have this meeting. They both said they wish they had a chance to travel, but they were still grateful for the opportunity they had. Zach Ryer was the student that worked with Stopka to get approval for the budget. Ryer said "It's helped me be a better person by helping me be more patient, respectful, and courageous." Ryer isn't there just to play sports in Unified, he is there to cheer on his friends and build relationships, making sure to give them a "lets go!" as they shoot or pass.
With my time spent there, I could tell the community feeling was extremely strong. To be a member of Unified Sports it doesn't matter if you're good at sports, you just have to want to support others. Everyone is there to come together and have some fun, making this is an environment that every school needs. Especially throughout Covid and weird times like these spending time with friends and building relationships can be extremely beneficial. 
Leave a Comment