Administration Requiring Vaccination for DC Trip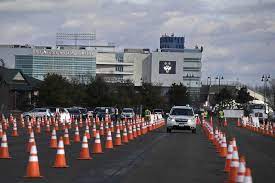 On Thursday, October 7th, the administration of Coginchaug Regional High School announced that seniors going on the Washington, D.C., trip must be fully vaccinated against COVID-19. 
Principal Matthew Warner said in a letter to the Senior class and their parents that, "in light of the current COVID-19 pandemic, [the administration] need[s] to make [parents and students] aware that several of the places we plan to visit are currently requiring all attendees to be fully vaccinated for COVID-19. As a result, all Washington DC trip participants will be required to provide proof of vaccination prior to departure." 
A record of vaccination must be provided to the school nurse, Pamela Branciforte, by departure in March to go on the trip. The announcement also included extending the withdrawal without a loss of funds until October 22nd, changeable options for travel insurance due to COVID-19, as well as an announcement that if restrictions remain in place when the class travels, students who are not fully vaccinated will be unable to attend.
Many Coginchaug seniors agree that this was the right call. Cayden Bernard said that, "I think it's a smart idea since that trip will be a time where we will be highly concentrated for long periods of time", he said, "with ourselves and with other people. They have to take measures to ensure it's [as] safe as possible. You also can't really trust people to do stuff like getting vaccinated by themselves, especially in [these] town[s] so stuff like this can help nudge people towards getting [vaccinated]." 
Seth Overton, while agreeing with the mandate for vaccination, wishes the announcement was done sooner. "The school should have established this vaccination rule well before the first payments were due for the trip, but because they didn't, it now puts unvaccinated students in a tough position." 
Morgan Messner agreed with Overton. "I don't think it's entirely bad. If people don't want to get vaccinated," they said, "I agree that they shouldn't be allowed to go on the trip. Ensuring the safety of everyone is important, and being willingly unvaccinated is putting people in danger. However, I can see multiple reasons as to why this could be problematic. I know several people who aren't vaccinated because their parents are against it, even though they really want to get it." 
As of October 6th, 2021, 70.1 percent of Durham's eligible population (ages twelve and up) and 67.8 percent of Middlefield's eligible population is fully vaccinated with an FDA approved vaccine (Pfizer-BioNTech, Moderna, or Johnson and Johnson), according to the Connecticut Department of Public Health. 
Vaccination status has not been announced for other trips and will likely be decided on a trip by trip basis, according to Mr. Warner.  
Leave a Comment