Theater to Return to Coginchaug with Emma!
Live theater will be returning to Coginchaug in 2022, as the Music Department will be performing Emma! A Pop Musical, on April 7th through the 9th. 
The musical is based on the Jane Austen novel of the same name, but it gives the classic story a twist by way of the modern film Clueless. Emma (Morgan Messner), a high school senior at Highbury Prep School, sets two teachers up and uses her newfound matchmaking ability to attempt to find a boyfriend for Harriet (Rebecca Tobin), a sophomore. The plot follows the twists and turns of Emma's attempt to complete her goal while navigating her own quest for love. Traditional high school events, such as a student council election, are mixed in with the original plot and set to popular songs. Much of the score is by female artists and female groups from across decades and genres, ranging from the Ronettes to Katy Perry. 
Rehearsals started in early January with read throughs and rough blocking with the principal characters before moving into the full cast, choreographing major dance numbers and scenes. While the plot primarily surrounds the main characters, the ensemble plays a crucial role.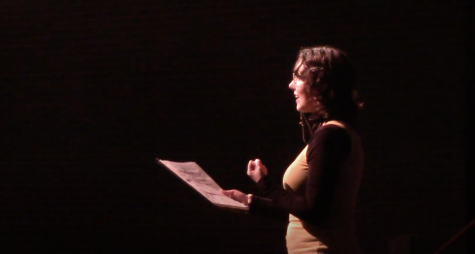 "This is a show which takes place in a high school," said director Ms. Erin Schilling. "There's going to be the students who you'll see throughout the show in various roles, such as being background singers." 
The show is being creatively led by Schilling, the choral director and head of the K-12 music department. The show is also being codirected by Coginchaug senior Ava Dell'Orfano and choreographed by senior Ellie Castiglia. 
Coginchaug has not performed a musical since Beauty and the Beast in 2019, when the current group of seniors were freshmen. They were in rehearsals for Mamma Mia! when the pandemic broke out in March 2020. 
"Considering the situation with COVID," Messner stated, "I'm super excited to be a part of this production." 
Photos by Christine Waterman.
Cast List: Emma! A Pop Musical (Asterisk indicates senior)
Emma Woodhouse: Morgan Messner* 
Jeff Knightley: Zach Infeld* 
Harriet Smith: Rebecca Tobin* 
Frankie Churchill: Drue Fleck 
Jane Fairfax: Madalena DiPentima* 
Philip Eaton: Mark Laudano* 
Ashley: Sophia Reny  
Martin: Christian Quesnel 
Miss Bates: Samantha Mierzejewski*
Welcoming Committee: Zoey Albin*, Catherine Taylor, Riley Biro, Tiana DiLeone, Sophia Stephan, Natalie Hayward 
Highbury Prep Students: Christa Messner, Samantha Miltenberger, Ashley Kijewski, Hailey Kijewski, Jessica Rybak, Ashley Cote, Jaedyn Fallon, Connor Willett*, Will Dalles*, Holden Masterson*, Francesco Marotta*, Logan Palardy*, Anthony Toth*, Leo DiLeone*, Chris Barrett, Anil Dhawan
Leave a Comment