Misson: MUSIC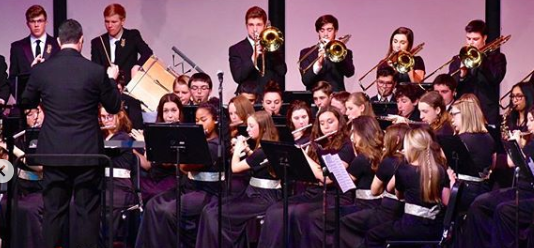 On April 11-15, Coginchaug's Concert Band, Jazz Band, Concert Choir, and Chamber Choir will be competing at Festival Disney, a musical adjudication festival at Walt Disney World in Lake Buena Vista, Florida.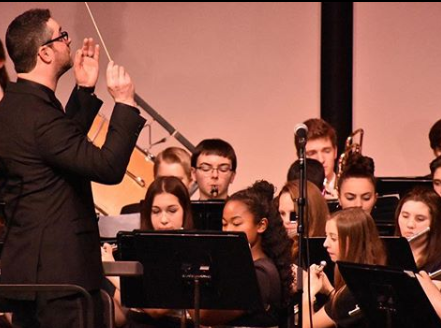 Over a hundred and twenty students, at least 25% of the student body, will be competing in at least one of the four ensembles. At the last festival they competed at, 2017 in Virginia Beach, Concert Band took first prize, so Coginchaug's Director of Bands Mr. Tim Fisher is looking for the same. Fisher explained, "I think that the 3 pieces are starting to come together, and it's very exciting because I know we will do very well."
Many students are proud of their current  progress.
Senior clarinet player Olivia Tawa said, "We are making good progress for where we are.  I think the band can do well if everyone really concentrates and no one goes into autopilot."
They also have extra motivation to do well, due to Cromwell High School's band competing in their competition class.
Jazz Band is also looking to do well at the festival, after a third place last time. Fisher said, "We have done one competition so far this year [the Berkeley Jazz Festival in January], and since we had those pieces ready for competition, so we added another one for competition. I'm really excited for all the soloists, who all doing very creative solos."

Concert Choir, conducted by Ms. Erin Schilling, looks to perform to their best, after a third place in Virginia Beach. The choir will be competing with contrasting styles of music. They will be accompanied on two of the pieces by senior Emily Dell'Orfano on the piano. Freshman Nora O'Connell, a soprano in Concert Choir,  believes that the chorus is doing really well and can do amazing at Disney.
O'Connell described, "We're doing really well with our dynamics and our blend, and I think we can do very well."
During downtimes, they will be exploring Disney World, visiting EPCOT, the Magic Kingdom, Disney's Animal Kingdom, and Disney's Hollywood Studios, experiencing some of the newest Disney attractions, such as Toy Story Land in Hollywood Studios and Pandora-The World of Avatar in Animal Kingdom, and classics such as the World Showcase at Epcot.
On Saturday Night, they will be attending an awards ceremony at Typhoon Lagoon, one of the water parks on property. Many students are excited to attend the festival, including sophomore Alex Infeld. Alex,  a tenor in concert choir and a tuba player in concert band, revealed, "I'm excited to get feedback on our music, compare how we do against schools across the country, and spend time at the parks, of course."
| | |
| --- | --- |
| Date | Park |
| April 12 | EPCOT |
| April 13 | Magic Kingdom |
| April 14 | Animal Kingdom |
| April 15 | Hollywood Studios |
If you want to attend any of the performances in Disney, check the table below; however, the awards ceremony is for  festival participants only. All the performances will be video taped and posted on the CRHS POPS Facebook for people who are not able to attend the trip. Also listed is what park they will be in each day.
Follow the Devil's Advocate Twitter and Instagram (@crhsdevisadv and @crhsdevilsad), and the Coginchaug Band's Instagram and Twitter (@coginchaugband) for updates from the trip.
Ensemble
Time and Date
Location
Chamber Singers

April 11 at

7:45 p.m

Disney's Saratoga Springs Resort

Auditorium

Concert Band
April 12 at 7:25 a.m

Disney's Contemporary Resort

Ballroom of the Americas

Jazz Band
April 12 at 8:25 a.m

Disney's Contemporary Resort

Ballroom of the Americas

Concert Choir
April 12 at 9:35 p.m

Disney's  Saratoga Springs Resort

Auditorium
Leave a Comment