The Music Department Heads Back to Normalcy
On Monday, October 25th, the Coginchaug Regional Music Department hosted its first "normal" concert since 2020. It's annual fall concert was a little different from ones in the past, parents were only able to watch the ensemble their students performed in. By 7:30, the audience was filled with only family members of Coginchaug's chamber choir, concert choir students, and select community members. Before the concert started, Erin Schilling, the choir director detailed "[we are] so excited to back together in-person in the auditorium." 
 The chamber choir, concert choir and concert band all performed exceptionally well, while wearing masks and following Covid-19 protocols. Both Schilling, the choir director and Tim Fisher, the band director, highlighted the hard work of the students in the months prior to the concert. They all performed a variety of songs, all of which had an overwhelming feeling of   and peace.
The chamber singers performed "Sing me to Heaven" by Daniel Gawthrop, "O Love" by Elaine Hagenberg, which included non-traditional accompaniment for the choir, and "Daemon Irrepit Callidus" by Gyӧrgy Orbán.
Then, when the concert choir joined the chamber singers, they sang "Amani (Peace)" by Audrey Snyder, which included soloists Alec Rodrigue, Ava Dell'Orfano, Elliana Castiglia and Morgan Messner. Then moved to "Omnia Sol (Let your heart be staid" by Z. Randall Stroope, "Sing and Rejoice!" by Sally K. Albrecht and "You will be found" by Benj Pasek and Justin Paul, arranged by Audery Snyder. "You will be found" is a song from the hit musical "Dear Evan Hansen" and included solos from Kailey Pietrzyk and Zachary Infeld. 
After the choir performance, there was a short intermission. Unconventionally, students and parents of choir members left and band parents came in. 
The band performed "Fanfare for the Common Man" by Aaron Copland, arranged by Robert Langfield, "Interruptions" by Steven Bryant, "Air for Band" by Frank Erickson and "Dream Dancer" by Julie Giroux. Fisher praised his students and said he was "extremely proud of [the] band, because of how well and hard" they worked.
The last performance by the CHRS Music Department, in June of 2021, was not like a traditional CHRS concert. It was outdoors, which took a lot of work from the staff and students. 
A live stream of the concert can be watched on the RSD13 Live Youtube channel. More info on the concert can be on the CHRS Pops Website. 
(Left: Concert Choir, Right: Chamber Singers)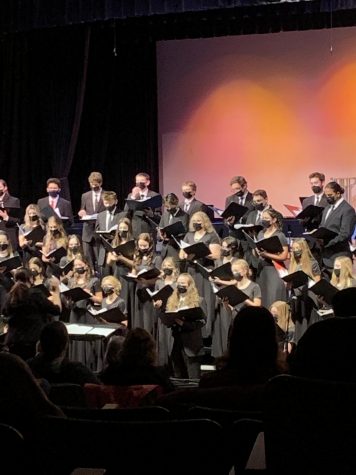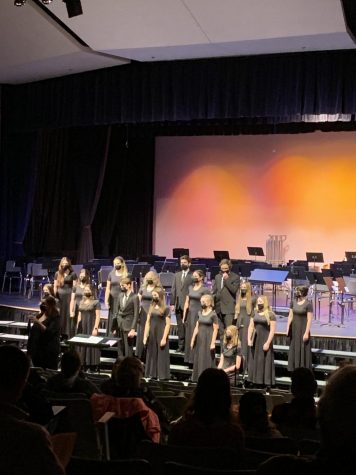 Leave a Comment