The Pep Band Experience
At every home football and a majority of the home basketball games, the  Pep Band entertains and pumps up the home crowd. Made up of CRHS concert band students, the Pep Band plays current stadium anthems (American Authors' "Best Day of My Life" and The White Stripes' "Seven Nation Army") and classics (group favorites include Chicago's "25 or 6 to 4" and Survivor's "Eye of the Tiger). They are also accompanied by a rock band, made up of juniors Jared Munro on guitar, Dylan Sartor on drums and Pierce Stefan on bass, which also play songs during games.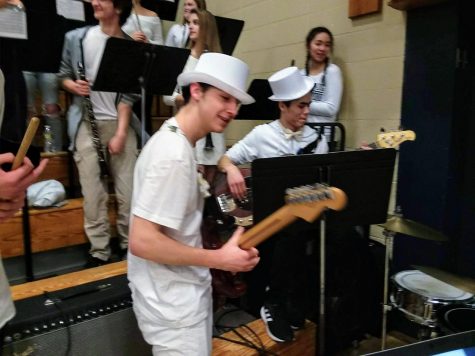 Stefan said about the rock band, "We get to do lots of improvising ,and we just get to fool around and have fun."
The band's director, Mr. Tim Fisher, also loves this opportunity. Fisher said, "Pep Band gives them  [the concert band] the chance to play popular music. We do lots of serious classical stuff in concert band. Pep Band gives them chance to play things [that are] on the radio. Also, it's great opportunity to add opportunity to provide for the atmosphere, and it really pumps up the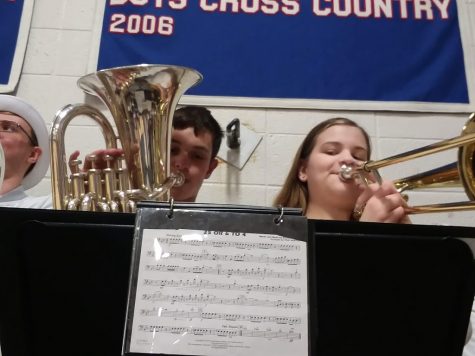 team."
The band also has a various assortment of cheers. One of them is leaded by the Pep Band captain, alto saxophone player Julia Kaliszewski.
"My favorite thing about being captain," Kaliszewski stated, "is that I get to be really spirited, and we get to be loud." One thing Kaliszewski incorporated into Pep Band is a theme for each game. Some examples included Christmas (the band played Christmas songs at halftime) and pajama night.
Fisher praises Kaliszewski: "Pep Band would not happen without the hard work of the captain [Julia]. There's a lot she does behind the scenes to make Pep Band a success."
Even though you can't catch Pep Band until football starts up again in September, the band will be back to entertain and pump up the crowd again.
Photos by the author
Leave a Comment