Thanksgiving Oreo Turkeys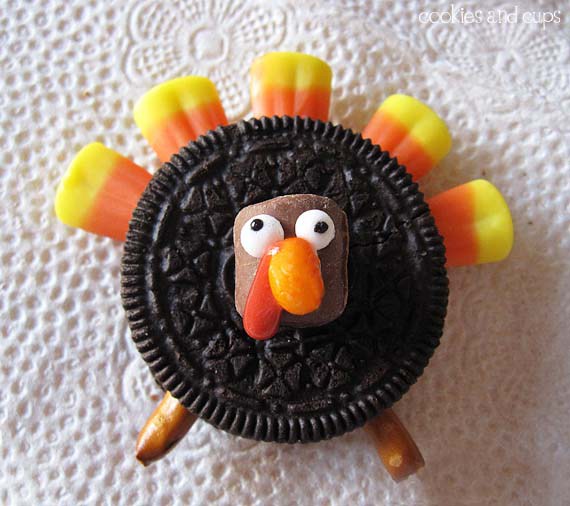 Ingredients
-Double stuffed oreos
-Pretzel Sticks
-Jet puffed marshmallow bites/whoppers
-White and red icing
-Candy Eyes
-Candy Corn
-Lolly-pop sticks
-Ribbon
Directions
1. Take your Double Stuff and break your pretzel sticks into small pieces, about an inch, and push them gently into the bottom of the Oreo, like legs.
and press 5 candy corn in the top, like feathers
(Do these steps carefully, so you don't break your Oreo cookie…if you do, no worries, just reattach it.)
2. Next take some white decorating icing (or royal icing) and put a squirt in the middle to work as glue to hold your turkey's head on…
3. Press your chocolate marshmallow, or Whopper on to this.
4. Then dot on some white icing for eyes and then use your gel or sprinkle to give your eye a black center.
5. Then squeeze a little icing on to attach the beak.
For the beak, I cut off the orange tip of a candy corn
6. Then squeeze on some red for his gobble
7. Put the stick in the bottom of the oreo, and add a bow.
Recipe found from http://cookiesandcups.com/gobble-gobble-oreo-turkeys/
Leave a Comment