Girls Volleyball Starts off the Season 3-1
With the help of a new coaching staff, the Lady Devils are starting the volleyball season strong with a record of 3-1.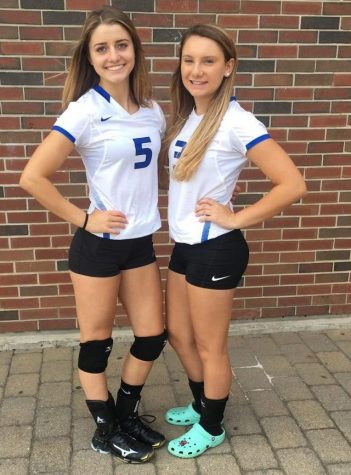 This year's captains are seniors Demarie Del Vecchio and Julia Filiault. The team is "staying positive, getting used to trusting one another and gaining more and more confidence after each game,"   said Del Vecchio and Filiault. Their biggest rival this year is Haddam-Killingworth, and they said to prepare for the game, they will stay focused and work hard.
Over the past four years, the team has had three head coaches, along with standard changes in the junior varsity coaching staff. As for the girls' leadership role, they plan to take action to, "give the team little reminders of what needs to be done: finish designing the warm up shirts, organizing fundraisers, doing physical activities done all together, and planning team dinners," Filiault said.
"We were voted by the team," said Del Vecchio, "Julia and I work well together. We feel that we took more action and always want what's best, and we deal with problems well."
Even though the season just started, the girls already have specific goals set for the team as a whole. "We definitely want to qualify for Shorelines and the state tournament. We will improve as a team in time," Filiault said. "It's also not all about winning; being the best and most comfortable on the court as you can be is important."


Leave a Comment