Girls Soccer Battling for a Playoff Spot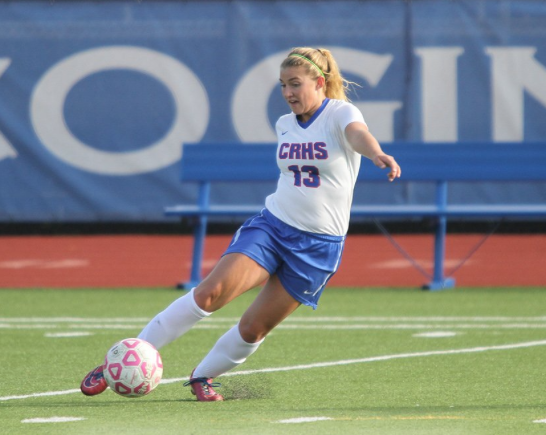 By Chris Solomon and Jack French
After starting off their season 0-5, the Coginchaug girls soccer team knew some changes would be needed if they had any hopes of making the State Championship playoffs. In the their first game of the month on Oct. 3, the girls took on HMTCA (2-3) in hopes of their first win. Halfway through the game, the girls saw their first lead of 1-0 and were able to hold onto it all half. The game stayed tight at 1-0 until 12 minutes to go in the game when the girls exploded for four more goals and took a 5-0 lead.
Some crucial saves by Amanda Paul in the second half allowed the girls to hold onto their lead and capture their first win of the season.
The winning streak was broken the following day when the girls faced North Branford. The Thunderbirds got off to an early lead and held onto it until they finally defeated the Devils 4-0. "Our record doesn't define how good we are, our cooperation does," says senior co-captain Olivia Preneta.
On Thursday, Oct. 7, the girls traveled to Old Saybrook in a must-not-lose situation. Early on in the game, the girls were dug in a hole, trailing 0-2 at the half. When the second half kicked off, the girls immediately struck back to tie the game at 2-2, managing to tie one of the best teams in the Shoreline Conference for girls soccer.
Looking at the weeks to come, the girls must be able to defeat six of their last eight opponents in order to qualify for the state tournament this Nov.
Leave a Comment