Girls Soccer Falls to Portland, 3-2
On October 5, the 2-6 Coginchaug girls soccer team went head-to-head against the Portland Highlanders (2-6), knowing it was going to be a close match.
In the first few minutes of the game, senior captain Maddie Montz put the girls ahead 1-0 with a beautiful finish off of a corner kick. Portland, however, responded quickly and tied the game off of a breakaway. The Highlanders later pulled ahead 2-1 with seven  minutes left in the first half.
The CRHS girls showed some life during the second half of the game when junior Shannon Carey scored off of a penalty kick. The Blue Devils out-played Portland the majority of the second half; however, things changed when the Devils moved from having two center backs to one. With less support in the backline and more pressure from Portland, the Highlanders were able to score on Coginchaug with only three seconds remaining in the game, resulting in a 3-2 loss for the Devils.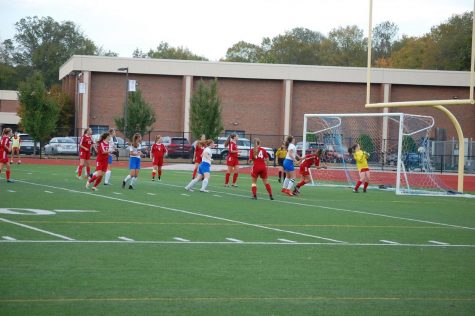 "If we worked harder in the first half, it could've been a completely different game," said Montz. "We just need to execute and be more consistent."
The girls bounced back 4-0 on Friday, Oct. 6 against MLC.
The CRHS Devils hold their next game on Oct. 10 against Morgan.
Leave a Comment