Boothroyd Dives to New Records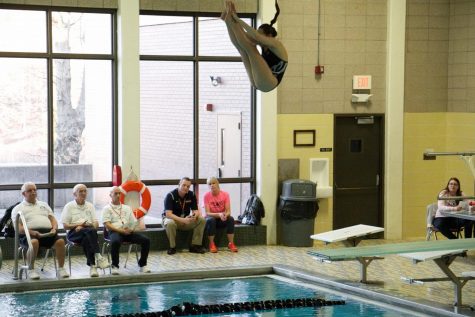 Breaking the water with her dives, Coginchaug sophomore Elyse Boothroyd dominated the pool by setting a new record, beating out her own CRHS record on Jan. 24 against Haddam-Killingworth.
 Coginchaug has had a co-op with the Lyman Hall swim and dive team since 2016. This season has been the co-op team's largest yet with a total of 25 members, Boothroyd being the top diver of five.
 This season, Boothroyd has broken the school record three times, scoring 217.65 points against Xavier on Dec. 18, 219.65 points against West Haven/Platt Tech on Jan. 9, and 237.05 points against H-K on Jan. 24.
 Divers are scored based on several factors contributing to the overall execution of the dive including their approach, form, and entry.
 Initially breaking the school record, Boothroyd states she came to the meet with the expectation of scoring higher than the school record—which she successfully accomplished. However, beating the record was only one step furthering her goals: "When I re-broke my record, I was happy about it, but I always think I can do better and keep setting higher standards for myself."
 Boothroyd has been a new addition to the team this year after transferring from Mercy. Last season, she placed tenth in Connecticut's Girls Class M Championships. She began diving in the fall of seventh grade—just a little over three years ago— but had previously trained as a gymnast for about 10 years before making the switch. With her experience, she has been great asset to the team.
 "Elyse is a great diver," said senior captain Colin Kelly. "There's some good competition out there too, but she always comes off as being the best diver at the meet in my opinion."
 One thing that continues to motivate this young diver is the aspect of being able to help her team with points: "Getting those six points for first place or four points for second place is really going to help [the team] out."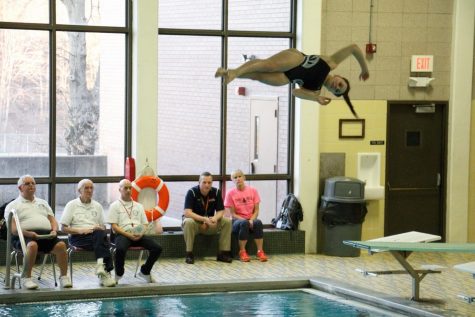 Making the transition from Mercy's all-girl team to Lyman-Coginchaug's co-ed team, she originally was nervous but quickly learned of the positive environment.
 "Everyone is so nice…welcoming and kind of like a second family," Boothroyd described.
 Although the team sizes do not differ significantly (Mercy being slightly larger), she has noticed some differences between the two in terms of how close the groups are. The Lyman-Coginchaug "swimmers and divers [are] together," leading them to be "closer as a group."
 Diving takes up the majority of Boothroyd's time, especially during the high school season. She attends practices for the high school team Monday through Saturday while additionally attending two-to-three practices for her club team. However, aside from being a diver, she is also a triplet and enjoys attending her sisters', Kelly and Dana Boothroyd, softball games. She hopes to join the team this year as the varsity manager.
 As a sophomore, she is already thinking about her future in the sport: "I would love to get a D1 diving scholarship" to help defray the high expenses of college. But in the remainder of her high school diving career, she hopes to continue to beat her record and looks forward to all aspects: "I'm excited for it!"
  Boothroyd will be competing in the remaining meet in the regular season and will proceed to dive in the Southern Connecticut Conference (SCC) Championship on Feb. 23 as well as the Class M State Championship on March 6.